Irene Lewis - 1991 Honda Civic EF
The B16A engine is 170BHP as standard, I haven't had an opportunity yet to get the car on a dyno as it was only finished at the end of last year so I don't have the figures for how much power she is running yet.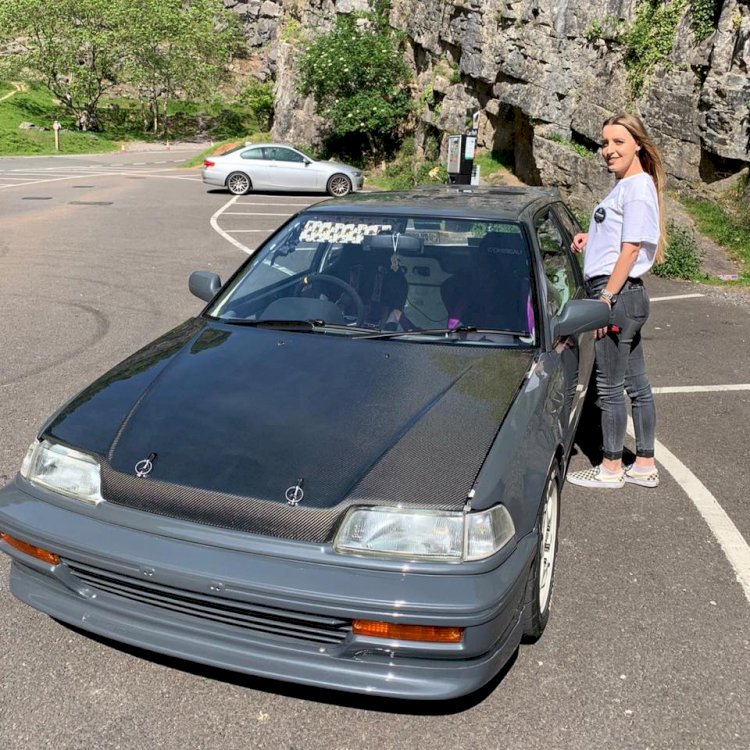 Join Stance Auto Mags Group Like our Facebook Page Follow us on Instagram
To Buy Our Printed Magazine Check out AMAZON and our MERCH STORE
More images in the slider above
Irene Lewis,
I work as a sales team leader for a local catering equipment supplier (but I'm currently on Furlough). I live in the South West of England.
My Instagram page is @hondachick94 and I also have a YouTube channel
I drive a 1991 Honda Civic EF and I absolutely love these cars. I already really liked Hondas and when I found the 4th gen shape I fell in love with the look of them! They have such a cool history in Japan which I really enjoyed finding out about.. I could spend all day looking at Kanjo civics. I love the style and characteristic that comes with owning a retro car.
I was going to local car events before I was even driving so once I bought the Honda I became more involved in the car scene. Social media is a great platform for finding other car builds and speaking to people from all over the world who share the same interests.
The B16A engine is 170BHP as standard, I haven't had an opportunity yet to get the car on a dyno as it was only finished at the end of last year so I don't have the figures for how much power she is running yet. I would estimate the car to weigh around 900KG as it's been stripped out inside however I haven't yet checked this, so it's possibly less.
Here is the full spec list -
B16a engine;
S80 LSD gearbox;
H22A7 throttle body with thermal gasket;
Stage 3 XTD clutch kit;
ARP flywheel bolts;
BC Racing coilovers;
Energy Suspension full poly bush kit;
Hardrace rear LCAs with down star dress up bolts;
Skunk2 front camber arms;
Buddy Club rear camber arms;
Tegiwa 2.5" 4-2-1 manifold which has been vapour blasted;
DC2 intake;
Full custom 2.5" exhaust system;
262mm front brakes with Brembo discs and pads;
Front and rear braided brake lines HEL;
Rear disc swap with Mintex discs and pads;
Full respray in colour Grigio Telesto;
Freshly painted interior and engine bay in Championship white;
Buddy Club P1 wheels also painted champ white;
Yokohama Advan AD08rs;
TGR Motorsport locking wheel nuts;
Carbon bonnet;
Fibreworx fibreglass sunroof bung and charge speed style wing;
Fibreglass vented front wings;
Carbon effect door cards and rear pocket blanks from Track door cards;
Purple STR Harnesses;
2 bucket seats;
K Tuned shifter;
Clocks from EK4 SIR;
Heavyset purple hose kit;
Skunk2 countersunk rocker cover dress-up kit;
Password JDM carbon fuel pump cover;
HT lead separator and billet bonnet raisers; and
Buddy Club style front lip.
The build was done in the garage/unit we have and honestly wouldn't have been possible without my boyfriend Jack, he's my mechanic and car sprayer all in one haha! He's taught me so much and I'm constantly learning. It was a lot of fun (but also tedious) learning how to prep a car as well as fitting all the new parts. Make sure you go check out Jack's Instagram too, he has a JZX100 which he has lots of plans for @jzx_jacky. We had help and advice from friends too.. Tom did all the wiring on my car and it looks so tidy so I'm so grateful for that. When we needed some parts quickly we turned to a local company JDM Regiment which I recommend as he has a stock of loads of Honda parts. My biggest bit of advice would be to have patience as building a car to a good standard doesn't happen overnight, unless you have a LOT of money it's going to take time to save for the parts you want and get them to work/fit correctly.
Although the majority of work was done at our own garage I did take the car to a local company to get the door cards and rear blanks made for the car in a carbon effect, the work was done by Track Car Door Cards and I really recommend them.
This was the 2nd car I bought, she was pretty much standard when I purchased her back in May 2014 and over the years I have added more modifications to her. I then took the car off the road and throughout 2019 the engine was swapped and the car was fully resprayed (plus a lot of other things done to her too)
My very first car was a 1998 Seat Arosa 1litre. In May 2014 I bought the Civic and then in 2017 I got another Civic EF (a sedan version) to use as a daily car which I still have alongside the hatch.
I have lots more plans for the Honda including getting a new steering wheel and boss kit, possibly a roll cage, wrap/livery, BYC side skirts, front splitter, more carbon parts and ITB's would be a dream at some point.
There's a lot of car clubs out there but one I have been more involved with this year is called Exclusive JDM – It's a private group for Japanese car owners, they have a really good variety of car builds and are really friendly. Hoping to get out and see them and some of their cars later in the year.
I haven't really entered any car comps but I would like to enter the car into some show and the shine stands at car events when possible! However it's always just for you – It's so important to build your car for yourself. If it wins something or someone shows it some respect it's just an added bonus. If it doesn't get accepted or no one likes it who cares? As long as the person who built the car is happy with it.
Once car shows are allowed I'm really looking forward to taking the car out and enjoying her. There are lots of shows I want to attend including Mimms Honda Day as its a huge Honda event... They do events at different circuits and also host Japanese Performance show which is an indoor Jap car event. Gravity car show hosted by SlammedUK, I attended this for the first time in 2019 and really enjoyed the variety of cars which all were built to a high standard.
I always attend events at Castle Combe circuit as this is my local circuit, this year I was planning to attend Spring performance action day and JDM Combe with my favourite detailing company, Bristol detailing supplies. Another must on the car show list is Japfest at Silverstone, its Europe's biggest jap car show and always filled with an array of epic JDM goodness.
I also love attending Retro rides gathering at Shelsley Walsh Hill Climb, it's a different experience than most other events and really entertaining watching the cars go up the hill. I usually attend the Queen Square car club meets which are local to me and held at different locations, always a chilled environment and without fail cool cars in attendance.
I honestly hate trying to answer what my dream car is because I'm the most indecisive person ever. If it were a supercar / won the lottery category, it would probably be a McLaren P1. If we are talking Japanese cars it would be anything from an AE86, C33 laurel, JZX81, anything retro really.
When I wash the Civic I will only use Bristol Detailing Supplies products, I really do recommend them! I started using their products last year and I'm growing my collection of their own brand products.
If you would like your Car Featured like this, and can do a write up like or similar to this
Email: CARLA, SHANNON, ANDZ or ADMIN, they would love to hear from you.