Jess Byrne - Ford transit connect mk1
When I was young I always helped my father with his motors and I love it so that's what made me follow his footsteps and make him proud.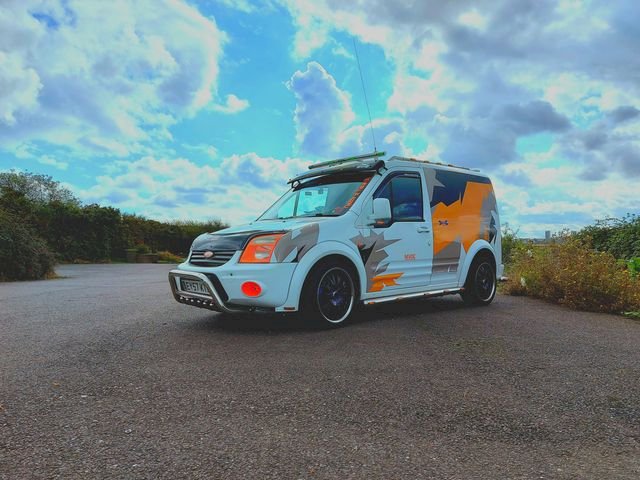 Join Stance Auto Mags Group Like our Facebook Page Follow us on Instagram
To Buy Our Printed Magazine Check out AMAZON and our MERCH STORE
More images in the slider above
Hello I am Jess Sandra Byrne
Ford transit connect mk1
Instagram:@Jess.byrne.779
I'm a carer for my father, I went to college to study both level 1 and level 2 mechanics. I am 20 years old. I am a motor enthusiast. I currently live in Basildon. When I was young I always helped my father with his motors and I love it so that's what made me follow his footsteps and make him proud.
My first ever motor was a ford escort van I loved it but unfortunately, it had to go so then I bought a fiesta but then sold that as well and bought my Ford transit connect and I currently drive it and love it and the main reason why is because I love turning heads especially when its young children or elderly people.
Ford transit connect mk1
1.8 TDCI
I've had it at 100 but still wanted more.
75 BHP standard but gonna get mapped and put in a rolling road.
Double din stereo including the following CD, DVD and Sat Nav.
I have 18 inches BBS wheels that are going to be put on in January and they are 8j wide.
Bullbar,

Lightbars,

Custom wrap

Customized headlights,
Custom interior in the van
Orange Recaro seats,

Orange gearstick gator and handbrake one

Customized steering wheel,

Customized gearstick,
Rear brake conversion from drums to disc's which is more efficient and brakes a whole lot better.
My van is no way near finished yet it's an ongoing project. I've had the van for 3 years and I bought it with clutch issues and I and my father have done all the work. It's a father and daughter project.
I would like to mention Slim's Graphics!
Premium quality, competitively priced, hand made, custom vinyl stickers and merchandise. Delivered straight to your door or collected from Leeds!
All items are made custom with different colours, sizes and fonts to choose from
https://slimsgraphics.bigcartel.com/
Examples:
Clothing range: T-shirts, Hoodies, Lanyards, Face Masks

Car/Vehicle stickers (Body or Window)

Wall/Mirror/Window stickers

Custom Company Labels/Stickers
Also, provide graphics for:
Game consoles, Bottles, Balloons, Storage Baskets, Shampoo/Conditioner Ect, & much much more!
Contact admin [Matty Slim Smith] or comment on the page for enquiries!
I am in the following groups and would like to recommend them for people to join :
Transit Bandits: This is an amazing group. They welcome all transit owners and they love seeing people's progress on their Van's.
Turbo&Tiaras UK: This group Is for all-female motor enthusiasts. They are all lovely bunch of female's and they always make people feel welcome.
Rouge: I am a moderator of this group. They are an amazing bunch of people so friendly and they welcome all motor enthusiasts with open arms. It doesn't matter what drives us all here for the same reason and then always makes members feel welcomed.
Transit connect owner's club UK: This group is for all ford transit connect owner's it doesn't matter if it's modified or standard all is welcome they appreciate all of the vans they are all unique in their own way.
Mystery Modified: I'm a moderator for the group. They welcome all even members from different countries. We want everyone to share the same love for all motors. They have always made me feel welcome and there isn't any bullying or anything like that which is most important we are all friendly bunch of people.
I go to as many shows as possible and I go because I love to see what other people have done.
My favourite car is a ford mustang and I love to own one
All the Cars in the Online Version of our Magazine will eventually appear in our Fully Printed Magazine, the cars with the most Views, appear sooner, the Magazine is sold the world over through Amazon, making it easier and faster for people around the world to get their copy. UK and Ireland use our store stanceautomag.com

If you would like your Car and Story or Your Business Featured like this, Please
Email: Carla, Shannon, Andz or Admin, they would love to hear from you.
Our site contains links to third party websites. We are not responsible for the privacy policies, practices and/or content of these web sites. Their use is at your own risk.