John Choppin - 1992 Mercedes-Benz w201 190e
I was very interested in the German touring car (DTM) and it was the Mercedes-Benz w201 that was driven by Klaus Ludwig. The car looked great.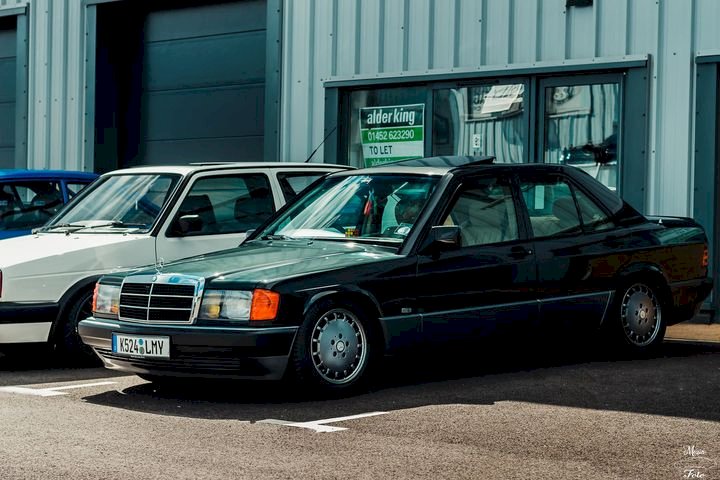 Check out our other sections in the CAR SCENE and our MERCH STORE
More images in the slider above
John Choppin
Facebook: South west Retros
Instagram: @retrobenz190e
1992 Mercedes-Benz w201 190e
I've always been a petrol head and into cars, inspired by growing up in the 80's, the "Golden Era" of Motorsport, watching Group B Rallying, Paris Dakar and Ayrton Senna in the F1 that reinforced the love.
How ever, my dad spent hours messing around with motorbikes and engines, never cars. Which later on.. became a passion of mine, which I took forward with me into later life.
My dad never had any good cars, just lots of Vans or runabouts, but the best car I do remember him having was an Alfa Romeo Cloverleaf. However, he had a field in which at the age of about 10, me and my brother used to drive around in his various "bangers" as we used to like to call him.
By the time I passed my driving test, I had my own place to live. So again cars were merely cheap runabouts. But I did pass my bike test at a young age. So I had a 5sl Yamaha R6 as a first bike and a Honda fireblade track bike. The way I saw it, the cost of doing my test and buying the bike was probably what my mate was spending trying to get 20 horsepower out of a golf 20-valve turbo and for that money, I had Supercar performance.
However, there's always been one car. There's always stood out for me. And I knew I was just going to own one day. In my late teens. I was very interested in the German touring car (DTM) and it was the Mercedes-Benz w201 that was driven by Klaus Ludwig. The car looked great.. It had fantastic Livery, the Sonax/ Boss with the black and silver pinstripes, the big awesome Wing, the big front splitter and going head-to-head with the E30 M3. BMW's in its day was just awe inspiring to watch. Also the car featured heavily in the music I was into, and that was hip-hop. A lot of Rappers/Rap groups and artists would reference Mercedes-Benz 190's would use them in their videos and would also feature them on the cover of that album. Fast forward to 2018...
Having kids and being slightly older, practical cars have always been ideal for myself being a surveyor. I've always had company cars, but one Christmas when I saw a Mercedes-Benz pop up on Facebook Marketplace, that I'd seen a few times, so I finally decided to give the guy a call. Luckily for me, three people were supposed to turn up and have a look at it, but unfortunately never got back to him, one even put down a deposit and never returned.
I went down on boxing day to have a look at the car and I left the car I had driven down in, in Essex. Just because I just wanted to get this Mercedes back home. It's a 190e 2.0 the E is for electronic fuel injection. The earlier models were carbs.
Upon purchasing the Merc I would be the second owner from new. The car was originally purchased by an elderly gentleman for a retirement present. He subsequently passed away and left it to his wife who only did 49 miles in four years just to take it for its mot.
Upon checking the MOT on the government website, it has only failed a test and that was for a bold tyre. So therefore I knew the car was well maintained. The car came with its original service manual fully stamped and full service history as well as a pile of receipts, tax discs and all three keys including the original sales receipt. This also included the breakdown warning triangle, tool kit and original first aid kit in the rear shelf... Not bad for 1k and 177 thousand miles.
The car itself was presented with a cream chequered interior, slightly threadbare, but very cool retro. Standard cream Mercedes Factory embroidered mats with cream carpet and it had some nasty faded and cracked wood veneer surrounds on the dash and Glove box The car. was on standard suspension which looked very high and came with 16 hole Mercedes alloys. The car color itself is unique and I do like the two-tone body colour . It's a blau schwarz 199 paint over a flat matte 7007 Altograu. It did, however, resemble a Baghdad taxi.
Since owning the car I've decided to keep it as OEM as possible and carry out some very subtle and very tasteful modifications starting with the engine. I have changed the Air idle control valve. HT leads Distributor cap, Spark plugs with kevlar heat surrounds. I changed and braided ALL the rubber hoses. I have also swapped out all the Jubilee clips and anything I feel could be perishable. I've changed the water washer bottle and coolant bottle including sensors. It's had a new radiator & thermostat, including the water pump, belts & pulleys. The gearbox has also had a flush and service.
I've also installed a K&N air filter and larger diameter intake pipe. I've also put new Mercedes bonnet insulation on. I've replaced all the fuses and cleaned the fuse boxes and gone over every wire/connector with tape and zip ties to ensure a neat and tidy look and all the vacuum pipes have been checked and tested and everything works and is correct and present.
I also work my way up to the cabin under the Scuttle panel and change the heater blower motor and install the twin blower that's there for giving better Demisting abilities inside the interior
Inside was the biggest job taking out the whole dash and replacing the heater core Matrix. Whilst at it the internal ducts were steam cleaned and blower vents fixed.
The most expensive job and cost the same as the car, was changing the whole interior and replacing it with the cream Sportline Mercedes equivalent of leather MBtech which sat in storage for 20 years and was a reluctant sale. This was complimented by including rear headrests and matching door cards. whilst the door cards were off. I decreased, and re-greased all the window motors including the sunroof.
All the bulbs inside the car and the boot have been changed to give a brighter light. All the door locks/hinges have been re greased. The dashboard binnacle has been removed. And then all the interior dashboard lights led. Followed by heater control lights. The nasty wood surround had been taken off, delaminated and sanded and then rewrapped with a black ash effect wood vinyl which was then glued back on. The gear knob has been changed for a black item and obviously bought a second set of black mats for the winter. So the cream ones don't get damaged. The glove box Was fixed and new sun vizor clips purchased.
Electronically I've installed a 2.1 USB charging point with voltmeter, because the cigarette lighter was too inefficient for trying to charge your phone. I've also installed a Sony head unit pop off with Bluetooth.
I've swapped out the 6x9's to the rear parcel shelf to Sony 240w items. I've added Sony 220 watt mid dashboard speakers, 200w infinity tweeters that run through to a 5-channel Vibe 900w amp. Via a Vibe wiring kit Which is linked to a Kenwood 350w subwoofer to the rear.
In the rear of the car, I've sound deadened the rear quarters. I've replaced the motor for the Ariel which now goes up when the radio is turned on and I've also sound deadened the boot lid.
Again, with the exterior the car wanted to keep it original as possible. But give it a nice clean European look. So what I've done is replace the Grill and chrome strips with new and painted the rear plastic grill surround black all finished off with a new Mercedes badge.
I've also taken apart the Bosch headlights, stripped the grey plastic from the inside of the glass and painted that black. I've then used it. Amber tint film for fog lights to do the reflective face of the fog light lenses and then replaced all the bulbs for brighter options. The fog lights were replaced with a yellow bulb. The backs of the housing were painted black and finished off with new Amber indicators and bulbs. I've gone for a smoked Crystal to the side with Amber bulbs.
The windscreen wipers were replaced with PIAA single arm blade wipers. To clean up the rest of the car, all Chrome strips on the window and surrounds have been taken off and Powder Coated coated black.
The boot has been given a small boot spoiler which I purchased off of eBay, shaped to how I wanted it to look, painted and glued to the car.
The number of plate surrounds came from Synter to Mercedes which contain metal pressed German effect plates with British registration so far so good... And fingers crossed. I haven't been pulled over by the police yet..
The suspension has been lowered 60mm all around with Monroe Shocks. The original Wheels have been replaced with 16-valve wheels and have subsequently been replaced with Gullideckel EVO 1 Alloys, which have been painted in a smoked Chrome effect. The rear wheels have 25mm spacers, and the wheels are dressed in Avon ZTS. 185/65 Tyres with The brake calipers having been painted in classy silver with new pads & and discs all around.
Underneath the car has been wax oiled, the jacking points have been previously welded and the rear section of the exhaust has been replaced with a 2.6 twin tail pipe, which is tucked up underneath the rear Valance.
The car itself is low enough to look good. It turns with no problems and I can carry four passengers, I do get the odd scrape from the odd speed bump.
With the styling, that's pretty much as far as I want to go with a car.
I've recently clay barred the car and Polished paintwork and it would probably benefit at later dates with some ceramic coating of some description.
I was considering changing the engine to a 2.3 compressor lump from a 2008 CLK or SLK, but I just feel that the car isn't really a car to go fast it's... it's sort of slow. It's a bit of a cruiser to blast out my 90's hip hop and therefore I just cannot justify the expense and besides if I want to go fast, I can just jump on one of my motorbikes.
Since owning the car for the last 2 years, it does feature in my weekend plans now.. if I'm not washing it or fixing it or doing some work on it. I tend to drive it to Caffeine & Machine or the Classic Motor Hub, as well as other various Meets like.. Retro Rides at Shelsley Walsh.
I also take it to our local coffee and cars meet that runs on the last Sunday of each month in Gloucester as I'm part of an admin team for a Facebook group called Southwest Retros. We also have a Instagram account @south_west_retros
The car also has its Instagram account, which is @retrobenz190e I'm at nearly 3k followers and I do Post frequent content, videos and various other stuff on there.
In terms of the car's future, it's something I'm going to keep, and on my last check on "how many left" indicates there is only 729 taxed or sorn on UK roads and falling. Therefore I'm not in any rush to sell regardless of the money. It's what I've always wanted. It's at the look that I want. It's in the condition I want it to be in and I'm just just happy to keep it and keep maintaining it.
I think if I was going to add to the Mercedes Fleet, I would probably get myself a W124 300 te estate preferably in the same 2tone colour or perhaps slightly newer R129.SL500...But Who knows.
Photo Credits to: Mežiņ Foto
Instagram: @Mezin.Foto
Facebook: Mežiņ Foto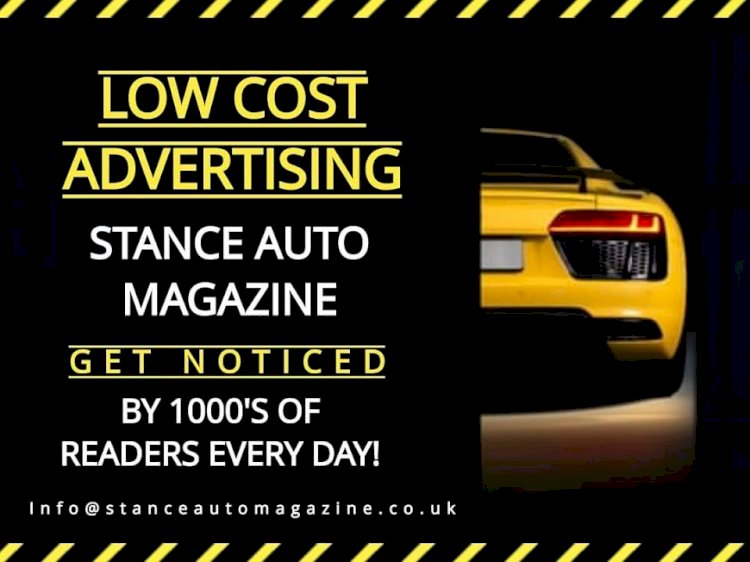 If you would like your Car and Story or Your Business Featured like this, Please
Email: Carla, Shannon, Andz or Admin, they would love to hear from you.
Our site contains links to third party websites. We are not responsible for the privacy policies, practices and/or content of these web sites. Their use is at your own risk.