Jon - Ford Focus ST225
So..she's a ST225 that's been fully converted to an RS spec by Collins performance
Join the Facebook group below, show us your cars, this helps us find more HOT cars, Thanks.
Hey everyone! I'm Jon
I work as a drainage engineer, I'm 38 and live in south Manchester. I'm a big NFL fan (Vikings!), I have 2 daughters and no money!! Although I do enjoy the "occasional" vodka!!
INSTAGRAM- @mr_bigslice
I have literally been into cars since I was born! My dad was a tech for Alfa Romeo (which is where he met my mom!) and he always brought different cars home, Suds, spiders, GTV's or whatever else he was working on and my mum used to race cars!! Yes you read that right she used to race bangers!! So you can imagine where my life for cars has come from. My stepdad is also a massive petrol head and loves F1. My mum is still a petrol head and currently owns the new mk8 fiesta st!
I've had a few cars over the years including 309's XR2's XR3's Golf GTi and an Impreza which I put into a field backwards!! My first car was the 309 1.6. I thought I was the bee's knees in that car!!
I Currently drive an electric orange Ford Focus ST225 but she's a wolf in sheep's clothing! I wanted a S2 RS turbo since I was about 10 so this was a natural choice, plus the price was right! (FREE!!!)
Spec list
Full block mod and head skim by Ed's garage
Relocated ECU
Fully forged rods and pistons
New big end set
Siemens injectors
RS Borg Warner turbo @ 1.7 Bar of boost
RS MAF Sensor
RS MAP Sensor
RS oil cooler
RS vac pipe
RS rocker cover and slam panel
RS inlet cam
RS airbox
RS oil pump
Airtec stage 4 Intercooler
5" Airtec turbo downpipe
4" Cobra venom with decat
Mountune induction system
Stage 3 CP420 software remap by Collins Performance making 420 bhp
CP Motorsport fuel pump
Big Boost kit with orange housing
MTEC C-Hook front discs with mintex pads all round
So..she's a ST225 that's been fully converted to an RS spec by Collins performance. All that's st under the bonnet is the head, She tops out at just over 180mph and depending on the driver and conditions she'll get to 60 in well under 5 second! She's definitely not finished yet but I just need the pennies! I'd like to get her over 650 bhp with syvecs ECU, big turbo, front lsd etc..
Collins performance in congleton did all the work and I'd never go anywhere else so if you've got a Ford you want tuning then this is the only place.
I don't really go to meets, although I should! I'm usually too hungover or in the process of making myself hungover!!
My dream car would have to be the McLaren P1, it's a technical marvel and looks like nothing else on the road!! And let's face it, she's fast!!!
Anyways that's enough from me, thanks for reading and please enjoy the pics.
Kind regards
Jon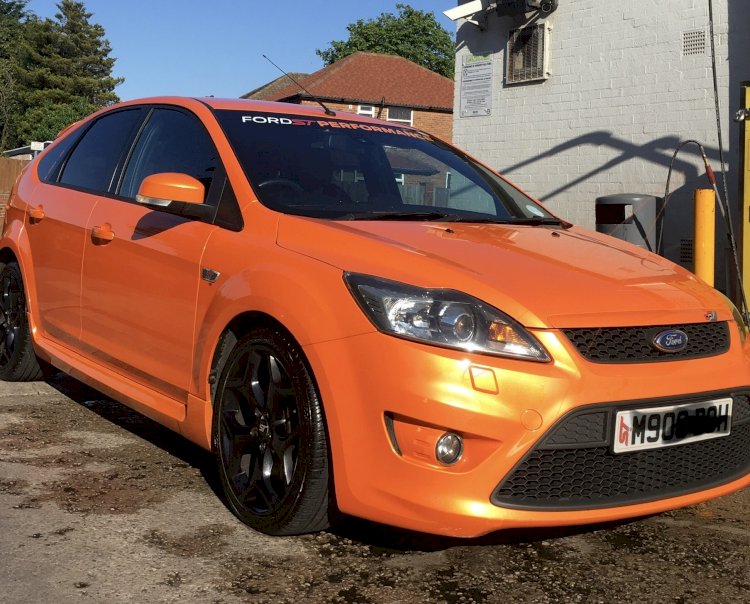 If you would like your Car or Business Featured like this, Please
Email: CARLA, SHANNON, ANDZ or ADMIN, they would love to hear from you.
Our site contains links to third party websites. We are not responsible for the privacy policies, practices and/or content of these web sites. Their use is at your own risk.