Ronne Medina - 2006 Subaru Impreza WRX STI (GDB-F)
As cliché as it is, I've always wanted to own a 4-cylinder turbo'd Japanese vehicle – that was a mouthful huh?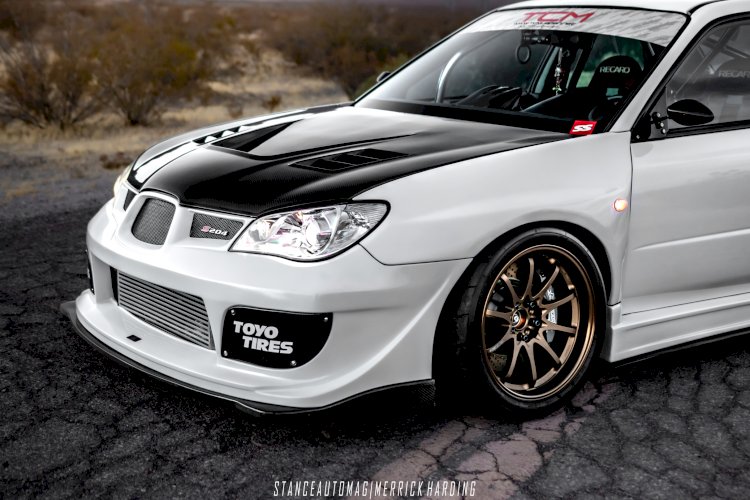 Join Stance Auto Mags Group Like our Facebook Page Follow us on Instagram
To Buy Our Printed Magazine Check out AMAZON and our MERCH STORE
More images in the slider above
Ronne Medina
2006 Subaru Impreza WRX STI (GDB-F)
Instagram: @Battleborn_STi
TikTok: @BattlebornSTi
Facebook: Ronne Medina / Battleborn_STi
Photographer: @merrick_media
I am like most modern enthusiasts – just a regular guy with an expensive hobby. I am also a small business owner, husband, father, and veteran. While still trying to wrap my life around the previous sentence, I am also enrolled in school full time. So, late in my life, after service this beautiful country for 8 years, I ventured into an attempt to finish a college degree that has nothing to do with my resume but has many to do with my personal goal. I've always wanted to acquire a degree and with the distraction of military life, cars, and family, I put that goal to rest. So, here I am, wiser and lighter (fewer benjamins in my pocket), but happier with a full house. We reside in Las Vegas, where we now call home, but the future is bright, and it may lead us elsewhere. However, I am kind of in the perfect spot in my life right now in terms of growth, automotive, and personal spirit.
I try not to make multiple features sound so textbook, with copy and paste answers, but you know, it has always started with the Honda scene – and the scene out here in Vegas, at the time (era 2003-2007) was really big. Like, "no one cared you had a cool show car with an LS1 swap and collected trophies, bro, with your hard parked duraflex body kit" -- it really was like a fast and furious showdown every Thursday and Saturday nights. These nights were when car teams/clubs/groups, actually put the drama to rest, or maybe even stirred more drama. They raced at a 1,320-foot distance, from start to finish, you brought it there and left it all at the raceway, illegally of course. This was intense stuff, and I mean, seriously intense. Each Thursday or Saturday night would be 200+ cars gathered and watched people raced. This was something that definitely led me into this habitual content of the automotive building.
As cliché as it is, I've always wanted to own a 4-cylinder turbo'd Japanese vehicle – that was a mouthful huh? The choices were clear at the time, coming on my latest tenure in the Navy, I decided to treat myself with something I've always wanted, but the options were very open. I was shopping for months for an Evo IX, but the more and more I kept looking, the more I hated looking – the
Evo interior is just so bland like it needs some pumpkin spice update to it, and I didn't really care for the irony of the 4G63, because I wouldn't be staring at the engine while driving, I'd be stuck with the aftertaste of vomit staring at the interior. Then, one day, I had a friend text me asking if I was still interested in his STi, as it sat in the garage for years due to his craziness in back-to-back deployments. I didn't hesitate, I knew it was well taken care of, well, just not driven enough. So that's a quick glimpse of how it all started.
The mod sheet is not as extensive as I want it to be, but I think the fun actually owning an older Subaru versus your modern 2015+ WRX or STi, is that there is a heritage to follow with it. That's where I went with my theme for my car.
You can't find discontinued parts on a fairly new car, especially grassroots name brands such as ARC, ZERO SPORTS, or some of the old Tommy Kaira, and such products. I know zero sports is still in production for the newer models, but it's the little collectable things that you just can't replicate and say, "its rare." – that term only works if it was actually genuine, found, and resurrected. Purely opinioned based of course, but also, I am personally not into the new Subaru's. As cool as they are, and I've personally been a part of someSEMA builds for the newer chassis, it just doesn't seem to be something you'd see in my driveway. Aside from the previous notion, looking more at the car build is really taking some of the OG to look mixed with modern-day vibes, and splattering carbon fibre into the canvas, and the final product you end up with is a little something like my car.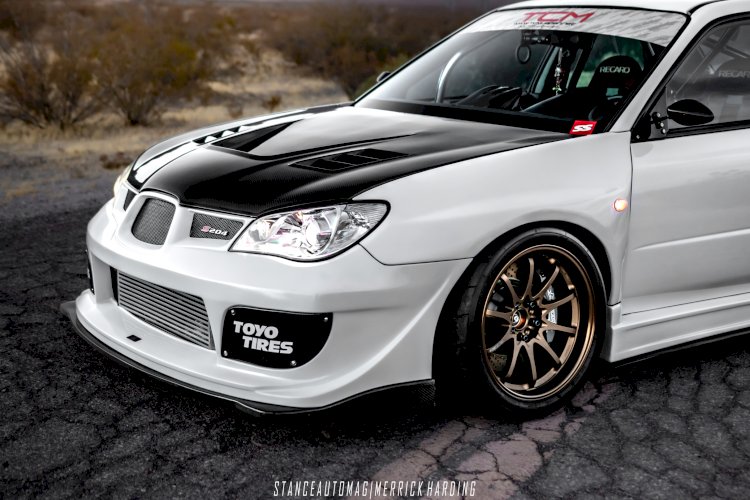 What made me buy this car, was just the right timing – From searching for a turbocharged car and my friend selling his barely used car, I think it fell in my hands at the right time. I don't look back or regret anything either and I think what honestly makes it very unique, is the way I visioned the widebody to come to real life. I'll probably hurt some feelings here, but riveted or screwed on fender flares, even how some widebody kits come, just aren't appealing to me.
The way we did this widebody, and moulding the OEM 05-07 STI fender flare to it, creating the body to look very natural, but wider, is what really emphasizes the uniqueness. The painter who did the bodywork, really killed it, nonetheless. I am thankful for how the bodywork I visioned, actually came to real life. Is it finished or an ongoing project if any enthusiast ever says his project is finished, he/she is a damn liar? It may be currently postponed, whether it be due to budget, lack of interest, or any matter whatsoever, but to say its finished, id be lying to myself. I have plans for other things, but for now, it's on a decent break – life is hitting priorities at the moment.
ENGINE MODIFICATIONS
Odyssey PC680 Battery, with mounting bracket
Engine: Subaru EJ257, 2.5T
Horsepower: 376 all-wheel horsepower
Torque: 365 all-wheel ft/lb
Tuning – Church Automotive Testing
Engine Management System: COBB Tuning
Clutch: SPEC Stage 2+ equipped with SPEC Steel Flywheel
Headers: OEM Port Matched
Intake: Injen Performance Piping Paired with HKS Super Induction Filter
Exhaust: Tomei Expreme Ti, JDM Version (Straight exit)
Additional Engine Modifications:
CRAWFORD Performance Air/Oil Separator, Closed-loop system
KILLER B Motorsports Ultimate Oil Pickup
OE Subaru 11mm Oil Pump Upgrade (2006 STI uses standard 10mm)
AEROMOTIVE Fuel Pump
DEATSCHWERKS 1000cc Fuel Injectors
GRIMMSPEED Phenolic Intake Manifold Spacer, 3mm
MISHIMOTO Silicone Inlet Induction Silicone
EXTREME TURBO SYSTEMS Front Mount Intercooler
TIAL SPORT Q50 – Blow off valve
PERRIN Performance Downpipe
PERRIN Engine Mounts
GRIMMSPEED Up-pipe with GRIMMSPEED Wastegate Bracket
TIAL SPORT 38mm External Wastegate, with Lower Dump Tube.
COBB Electronic Boost Controller
KOYO Radiator with JDM Rare Zero Sports Radiator Cap, and Zero Sports Upper Hose
JDM ARC Titanium upper radiator cap
JDM Kakumei Radiator Cooling Panel
JDM ARC Titanium Alternator Cover
JDM Prova Oil Cap
SUSPENSION & BRAKES
Coilovers: Fortune Auto APLS
Custom Springs Rates: Swift Springs F14k/R16k
Air Piston Lift System equipped in front (Air Cups)
SPC Front and Rear Camber Bolts
ROTORA Japan Full Big Brake Kit
OKUYAMA/CARBING Front Strut Tower with Master Cylinder Brace
WHITELINE Performance Anti-lift Kit
WHITELINE Performance Sway Bars & End Links
KARTBOY Engineering – Shifter Bushings
KARTBOY Engineering – Transmission Cross-member Bushings
GROUP-N Transmission Mount
BEATRUSH/LAILE Pitch Stop Mount
BEATRUSH/LAILE Rear Cabin Foot Brace
OKUYAMA/CARBING – 11 Point Roll Bar
PRODRIVE– Differential cover plate
INTERIOR & ELECTRONICS
DEFI Tri-Gauge Center Dash Pod Mount
CR Advance 60mm, Boost
CR Advance 60mm, Oil Pressure
CR Advance 60mm, Exhaust Temperature
AEM UEGO Wide Band Air/Fuel Ratio (AFR), 52mm Digital Meter
PIONEER AVIC-F900BT
VIPER 5901 Auto Security Systems
WORKS BELL Steering Wheel Hub Adapter
WORKS BELL/NIGHT RUNNER Collab Rapfix GTC Steering Wheel Tilt System
PERSONAL Neo Grinta – 325mm Steering Wheel
PRODRIVE JAPAN – Discontinued and rare 4-point harness
RECARO Rafael Red Wildcat SR5, 1 of 500 made
OE SUBARU JDM – Door Sills with Unhinged Labs STi Badge
OE SUBARU JDM – Red HVAC w/ Subtle Solutions Black Overlay
OE SUBARU JDM – Red Hazard Switch
ILLUMAESTHETIC – Custom Mature Gauge Cluster
Top Stitch Trim – "Gucci" Center Arm Rest
Top Stitch Trim – "Gucci" Shift Boot
Carbon Fiber WRC Door Cards
Carbon Fiber Kevlar Rear Seat Delete
Carbon Fiber Kevlar Rear Firewall
Carbon Fiber Kevlar Rear Upper C Pillar Compartment
Carbon Fiber A-Pillar covers
Carbon Fiber Lower A-Pillar covers
Carbon Fiber JDM C-Pillar covers
Carbon Fiber AC Vents
Carbon Fiber Clock/Gauge Pod
Carbon Fiber Cluster Gauge
Carbon Fiber Steering Wheel Trim
Flocked Lower Dash
Alcantara Headliner
Trunk build, both myself and 14yr old son put it all together
Soundstream Subwoofer 10" (x2) and Soundstream Amplifier setup
LatheWerks Complete Interior Titanium Trim (Shift Knob, HVAC knobs, E-Brake, Boot Collar, etc.)
EXTERIOR MODIFICATIONS
L'AUNSPORT WRC Wide Body with OEM 05-07 STi Fender Flares Molded
L'AUNSPORT Carbon Fiber Exterior B Pillar
L'AUNSPORT Carbon Fiber Exterior C Pillar
MATURE JAPAN – Front Bumper
MATURE JAPAN – Carbon Fiber Rear Diffuser
CHARGE SPEED Type 2 Side Skirts, with titanium badge & carbon fibre extensions
CHARGE SPEED Carbon Fiber Roof Vane
MRacing Carbon Fiber Type 4 Side Mirrors (As seen on the Cusco Japan Time Attack Car)
kaminari Reverse Scoop Carbon Fiber Hood
VOLTEX – Type 2 GT Wing, 1700mm, 295mm stands
VIS RACING Demon Carbon Fiber Trunk
2004/2005 WRX Tail Lamps, JDM re-wire
OE SUBARU JDM Headlights - *TSX-R Headlight Projector Upgrade
OE SUBARU JDM Side Markers
OE SUBARU JDM SPEC C Roof Vent
Carbon Fiber Windshield Cowl
Wheels
RAYS VOLK RACING – CE28N 18x10.5 +18
EVS Racing Titanium Lug Nuts
TOYO Tires R888R 295/30/18
Shout Outs
I wish to give my sincere thanks to my Partners at TCM JAPAN, Lou B. & Allan A. for everything they've done to stick by my side during this build, and allowing me to grow better in the business world, and being such great mentors in my life. Secondly, I wish to thank my longtime friend and fellow business partner Jeffrey N. at Dis & Dat for his personal insights in the automotive world and also helping me become a better, well-rounded entrepreneur. Next, to my sponsors and some great friends in other businesses who have either allowed me to be part of their elite team, or have created a foundation of friendship that can be trusted for a prolonged tenure.
Devin & Terry at Fortune Auto USA
Eita at L'aunsport Japan
Rajeet & Takashi at Mastermind North America
Jake with HVY Composites in the UK
Alan Kohler at Odyssey Battery
Loren with Rotora Inc
KJ Takahashi, owner of My Japan Direct
Fred V. & Chris at VIS Racing
Stan at Toyo Tires
Blackvue Dash Cam Team
CY Lee at Evasive Motorsports
Saving the best for last: To my wife, Tiffany, and my kids. The countless hours in the garage, turning wrenches when I could be inside and spending memories with you all, you choose to continue and support my hobby and allow me to follow what you feel makes me happy. The care that you all give and the love that I feel from you, all is more than enough to last me a lifetime and a half.
All the Cars in the Online Version of our Magazine will eventually appear in our Fully Printed Magazine, the cars with the most Views, appear sooner, the Magazine is sold the world over through Amazon, making it easier and faster for people around the world to get their copy. UK and Ireland use our store stanceautomag.com

If you would like your Car and Story or Your Business Featured like this, Please
Email: Carla, Shannon, Andz or Admin, they would love to hear from you.
Our site contains links to third party websites. We are not responsible for the privacy policies, practices and/or content of these web sites. Their use is at your own risk.