1977 Datsun 1jz swapped 280z - Diego Galibay
Some might think all of that is overkill for a show car, but Diego's 280z has a lot more purpose than winning awards. Along with car shows, he wants to participate in quarter-mile drags and drive on various local tracks such as Sonoma and Thunderhill raceway. 
1977 Datsun 1jz swapped 280z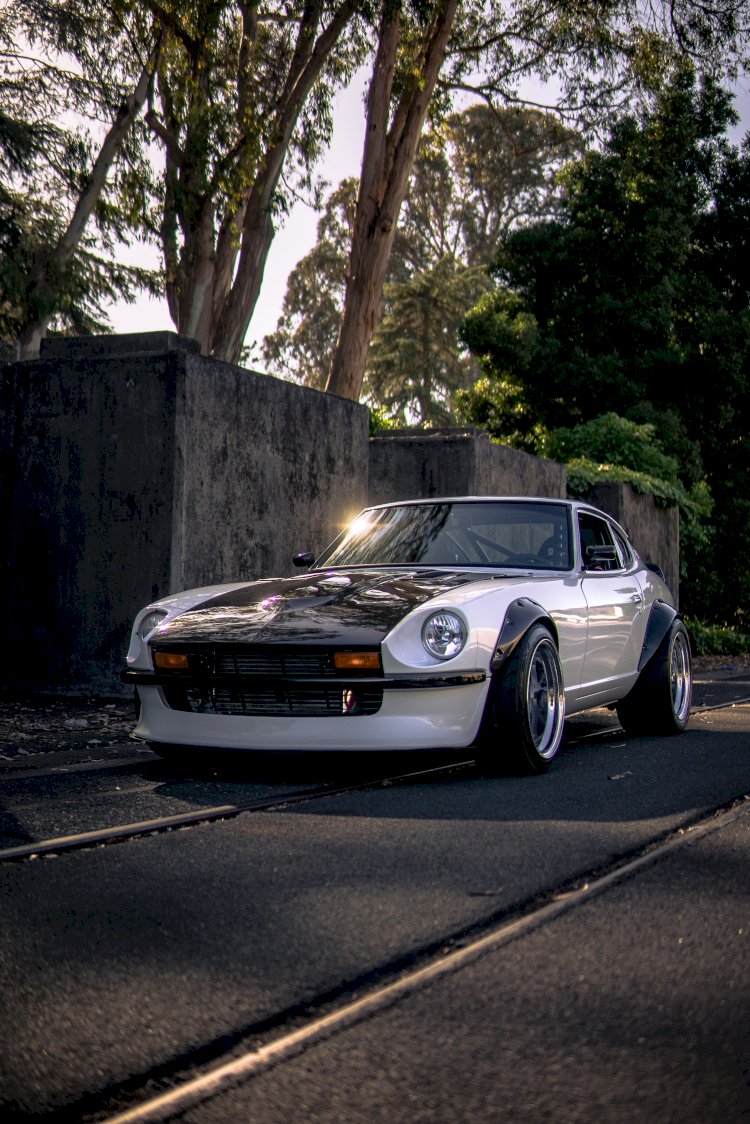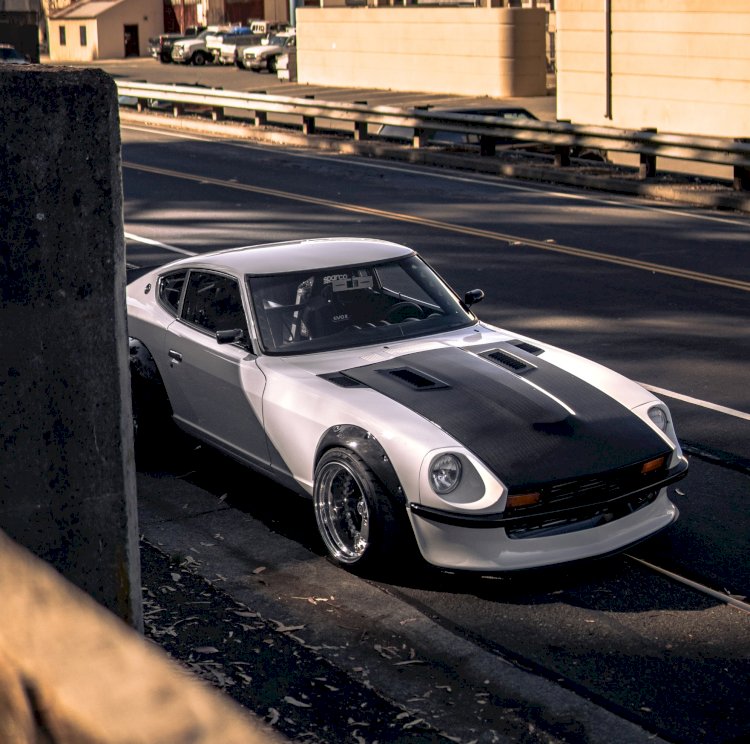 Join Our Stance Auto Mags Group, Give Our Facebook Page a Like, and Follow us on Instagram
These Photographs are supplied by the Photographer named, check their Link for Bookings.
Order the Printed Magazine HERE!!
More images are in the slider above, SLIDE LEFT>>>>>>>>>>>
1977 Datsun 1jz Swapped 280z
Diego Galibay
Instagram: @diego_1jz
Photographer: Sean Hart
Instagram: @shon.png
Written by: Sean Hart
Nowadays, you might find a show car with diffusers, spoilers, and other cosmetic pieces, but no power to back it up. With Diego's 1977 280z, that is far from the norm. If you take a look under the hood of his 280z, you'll see that it's swapped with a 1JZ equipped with a Borg Warner turbo that pushes 562 Wheel Horsepower with low boost.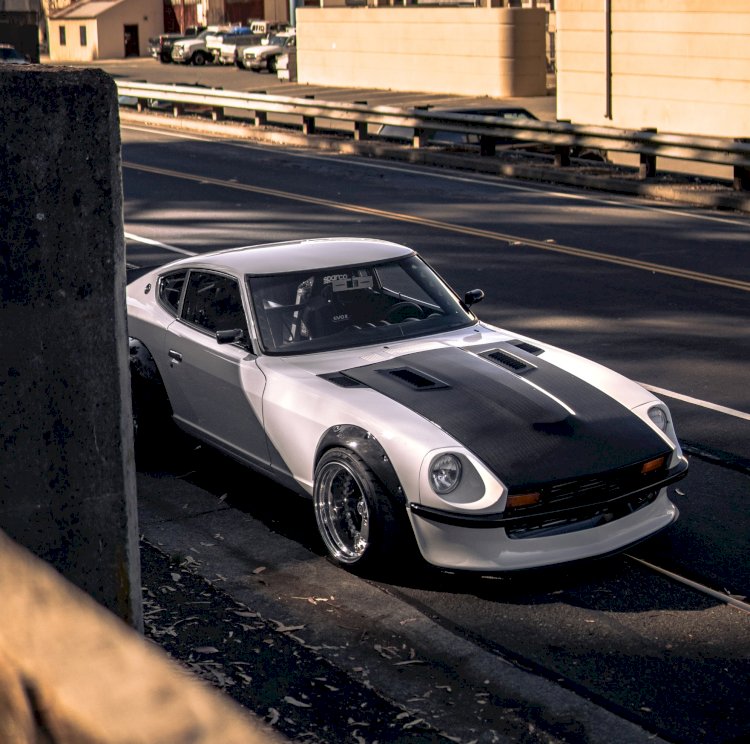 Some might think all of that is overkill for a show car, but Diego's 280z has a lot more purpose than winning awards. Along with car shows, he wants to participate in quarter-mile drags and drive on various local tracks such as Sonoma and Thunderhill raceway.
His purpose-built car takes inspiration from mangas such as Wangan Midnight, Initial D, and the various racing games he grew up playing, but video games can't take all the credit. His love for cars started with his older brother Miguel and his MK3 Supra. Diego had always been mechanically inclined, but seeing his brother work on his Supra sparked something deep within him. Eventually, after tinkering around with parts, reading magazines, and learning how to work on cars, he would then eventually install parts for his brother and become his mechanic.
Previously, he had owned a 1988 Mitsubishi Starion aka Metalsonic. The car was rotting away in a vineyard and was in pretty rough shape, but Diego wasn't someone to back down from a challenge. After swapping the engine, and many parts, and bringing the car up to his high standards, he would then compete in the Super Streets Odd Swap Challenge and would prove to be the most powerful in their dyno test and ran the event with no problems. After enjoying the car, he would later sell it and move on to the next project. This would then lay the foundation for the 77' 280z that you see today.
In 2018, Diego stumbled upon his Datsun in Napa Valley, which was at the time owned by the Browns family. He bought it for $3500 in running condition, by today's standards, an incredible deal! After stripping the car to a bare shell, the true condition of the car was revealed, and it was below his expectations.
Luckily, his close friend Michael was able to step in and make multiple repairs to areas with rust. Diego knew that he had a long road ahead of him, and he knew that it was going to be hard work, but that hadn't stopped him before, and it didn't stop him then.
From a car rusting away in someone's driveway to the masterpiece you see today, after 4 years of working on his project, Diego can finally say that it's complete. I asked Diego what advice he might have for someone wanting to build a car of this calibre and he said "Do your research. You have to make sure you understand what your end goal is. It's a lot more expensive if you do it in baby steps. If you want to do a full car build, you have to jump into it, have a clear vision, and start from the ground up."
If you enjoyed this car story why not read this ONE HERE
K&N Free shipping
SPEC LIST
Power
Horsepower and torque numbers: 562whp low boost
ENGINE BLOCK
Block code: 1jzgte non vvti

Engine mounts / brackets: Custom + SC300 solid mounts

Crankshaft: Stock

Pistons: Stock

Compression ratio: Stock

Connecting rods: Stock

Radiator: Champion 4 Row Polished

Other block modifications: ARP Studs
CYLINDER HEAD
Camshaft(s): Brian Crower 272

Valvetrain: Brian Crower HD Springs, Titanium Retainers and Billet Keepers

Port work: N/A

Other head modifications: Unnecessary coolant ports have been closed off
FUEL SYSTEM
pump, filter: AEM 400 LPH with a Kenne Bell Boost-a-Pump

Fuel rail: Dual Feed 14mm Custom Rail

Injectors: ID1700 CC

Other fuel modifications: 2 Liter Surge Tank Being Fed by a Walbro 255 IPH from factory fuel tank.

E85 and Flex Fuel Sensor
INTAKE SYSTEM
Turbocharger: Borg Warner Turbo 369sxe

Supercharger: N/A

Intake or ITBs: N/A

Intake manifold: Perfect Tunning Intake Manifold

Intercooler and piping: Treadstone Motorsports 1245

Blow-off valve: Tial 50mm

Other intake modifications: N/A
EXHAUST SYSTEM
Header/s: Driftmotion T4 Exhaust Manifold

Down-pipe: Kelly Built 3.5" Stainless Steel

Muffler and exhaust system: Kelly Built Custom Made 3.5 Oval Exhaust

Wastegate: Precision 46mm

Other exhaust modifications: Vibrant material was used
DRIVETRAIN
Transmission: Nissan CD009

Shifter modifications: CBF Performance

Clutch: South Bend 6 Puck HD

Flywheel: Collins JZ to CD009

Limited Slip: OEM Nissan Q45 Differential

Other drivetrain modifications: Custom 1350 yoked drive shaft
SUSPENSION
Coilovers: Bc racing coilovers front, TechnoToyTunning rear coilovers

Shocks or struts: N/A

Springs: Swift Springs

Antiroll bars: TechnoToyTunning

Bushings: Energy Suspension Bushing Kit Front and Rear

Alignment kit: All adjustable control arms by TechnoToyTunning

Chassis braces: N/A

Roll bar or cage: Miles at Shortrodeo Custom 10-point DOM cage with removable door bars

Other suspension changes: TechnoToy Short Nose R200 Kit

Silvermine motorsports Billet 5lug hubs front

OEM 300zx 5lug hubs rear
BRAKING SYSTEM
Discs:
Front are 06' STI rotors

Rear are 94' 300ZX rotors
Pads: Wilwood fronts, Project Mu rears
Callipers:
Front are Wilwood 6 pistons

Rear a re Power by Max 300ZX Calipers

Other brake modifications: Wilwood Proportioning Valve
WHEELS AND TIRES
Front Panasport g7 C5C 17x10.5 -32.

Rear Panasport g7

C5C 17x11.5 -32
Tire brand and size:
Front tire nittos nt05 235/40r17

Rear tire nitto nt05r 315/35r17
EXTERIOR
Paint and bodywork: Michael A. Nevarez

Body kit/aero pieces:

Industrial Garage rear carbon fiber flares,

Retrospec front carbon fiber flares,

Carbon fiber Victory spoiler

Mirrors: Skillard gt3 Apr carbon fiber mirrors
ELECTRONICS
Engine management: AEM V2 Standalone

Data logger: N/A

Gauges: Speed hut speedometer, tachometer and fuel level gauges, Aem wideband x failsafe,

Autometer water temp, boost and oil pressure gauges
INTERIOR
Seats:Eparco Evo 2 driver seat

Safety equipment: Racequip 5point racing harness

Steering wheel: Renown steering wheel Boss hub

Pedals, shift knobs, etc: carbon fiber shift knob
Please leave your comments in the comments section at the bottom of the page
'The future is bright as long as we can still Smell the Fumes'
Stay Up to Date Check Out Our Google News and give us a Follow
All of our Magazines can be found on Amazon, they Print and Deliver worldwide, Stance Auto can not be held responsible for the final print, and all complaints and returns must be directed to Amazon.
UKTM no: UK00003572459