2005 Honda S2000 - CJ Gutierrez
The car was automatic so it would just be loud most of the time but I didn't care. Months later I saved enough for a full body kit. I didn't have money for paint so rocked it primed grey on a red car. After the GS, I ended up getting a manual 1998 Eclipse GST. Then a 2008 Civic Si, 2011 Subaru STi, 2014 Forester XT, then finally this 2005 S2000.
Bagged 2005 Honda S2000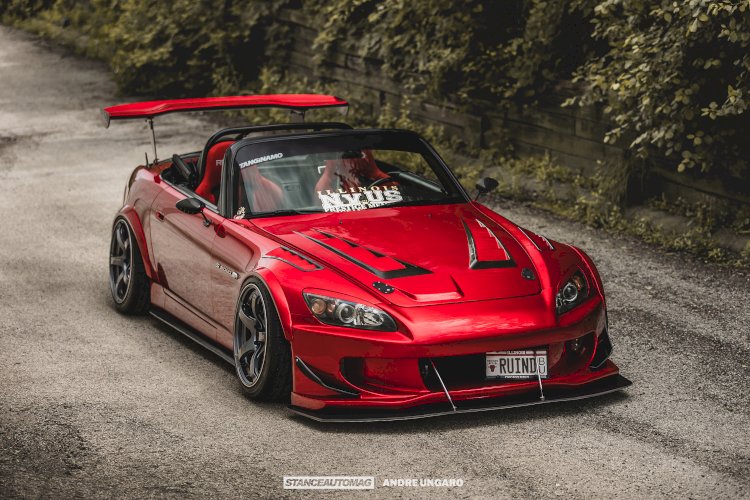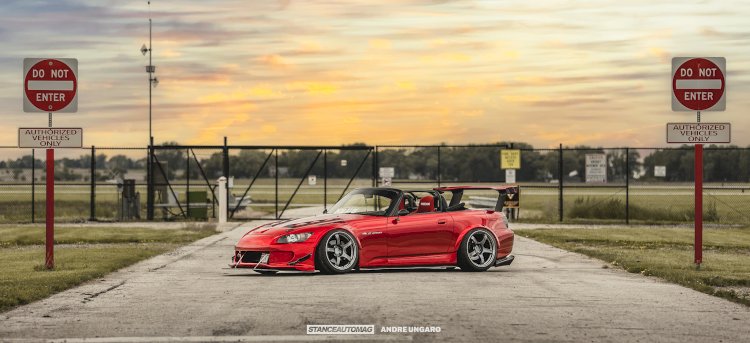 Join Our Stance Auto Mags Group, Give Our Facebook Page a Like, and Follow us on Instagram
These Photographs are supplied by the Photographer named, check their Link for Bookings.
Order the Printed Magazine HERE!!
More images are in the slider above, SLIDE LEFT>>>>>>>>>>>
2005 Honda S2000
CJ Gutierrez
Instagram: @c_gootrez
Photographer: Andre Ungaro - @6spd_media
"If it makes you happy, no one else's opinion should matter." When it comes to building my cars I've always, for the most part, used this quote.
My name is CJ Gutierrez, and I've been into cars since I could start driving back in 2003-2004. I grew up and lived in the burbs of Chicago most of my life, from reading and collecting Import Tuner/ Super Street Magazines, to going to Hot Import Nights/ Import Revolution shows, the tuner scene has always caught my eye as a way to express yourself in cars.
Before I could even get behind the wheel, my pops were the ones that started my fascination with cars. He would be doing repairs/maintenances on my aunts and uncle's cars in our garage. As I grew older, I would be helping and learn more about cars from him. Now, I'm the one working on everyone's cars in the family and my pops usually just help or watch. I didn't know it back then but this lead me to my future career as a Certified Subaru Technician.
My freshman year is when my love for cars went into high boost. I would hang out with the older crowd aka my older cousin's friends and hitch rides since I couldn't drive yet. I remember the time when I knew the tuner scene would be my life. One of the older kids Joshua Maghirang aka @Revgasm_Josh owned a champ white 1997 Integra Type R #172 to be exact. Back then it was close to stock but that White on the White look of the main stock ITR caught my eye. I would sit shotgun at times and we'd cruise with his team back then Team Nemasu. They were the people to hang out with back then I'd say lol. Hanging out at the mall like "mall rats" and just driving around. I felt so cool just hanging out with them being the youngblood.
When I started driving my parents bought me a 1998 Mitsubishi Eclipse GS with 30k miles. I started working at my local TJ Maxx at 16 just to pay for gas and car parts. Finally was able to save up for an intake, a header and an exhaust. The car was automatic so it would just be loud most of the time but I didn't care. Months later I saved enough for a full body kit. I didn't have money for paint so rocked it primed grey on a red car. After the GS, I ended up getting a manual 1998 Eclipse GST. Then a 2008 Civic Si, 2011 Subaru STi, 2014 Forester XT, then finally this 2005 S2000.
Fast forward to 2014, I drove one of my friend's stock 2007 S2000 with 10k miles top-down in the 50-degree weather on the highway! I fell in love with the S2000. I couldn't really push it on the turns since it would break loose due to the temp of the road, but that excitement and feel of Vtec again brought me back to that Integra. It was not fast at all but just pure fun and the sound of Vtec was enough to fall in love with it! I then ended up finding this bone stock red 2005 S2000 with 18k miles and just had to have it.
At this point, I had a career in the automotive industry meaning more money for more mods! I started off with the "essentials", intake, exhaust and coilovers. The car became more nimble and just felt 100 times better with the car breathing more. From there the mod bug went crazy. Out of all the cars I've owned this is one of my favourites. This is the only car I fully paid off on my own and did all the modifications myself even the wrap. Right now it's at 42k miles after 7 years!
Also, it's on its 6th set of wheels (waiting on the 7th) and on its 2nd wrap (waiting on its 3rd/ 4th colour version). I could say I think this will be the car I would keep FOREVER….maybe. I may have achieved my practical "dream" car at this point.
Every year I try to change up the look. From something like the wheels or just the interior. At one point it was the "Spider-Man" car when it was red with blue TE37s. One year I had it a dark purple colour so I incorporated Venom into it. Last year the wrap was a white colour so it became Anti-Venom. Finally, I think this is the last transformation. Back to red, but not just any red, True Blood Red from TeckWrap. Deeper red with a candy look. This year I incorporated Carnage into my theme. As you can see I also like Marvel/Spider-Man. I would love to boost the car but for now, I'll stick with visual mods. I'm just having too much fun driving the car as is.
I don't think that I will ever grow out of this "phase" in my life. Cars are my life and my career. For those future car enthusiasts, build your car for yourself and not for others. If you like it, do it! But in the process get help/advice from your friends who are into cars or even find a team that will have your back on your mods. Go to car shows, check out Instagram, look on Facebook groups, gather different ideas and build your car for yourself! The car scene is full of support if you are willing to ask questions and take advice.
Spec List
Engine
Invidia Q300 (custom Ap2 stock tips),
Berk 70mm Testpipe,
PLM Header w/ ChasingJs Hardware,
Koyorad Radiator,
Mishimoto Radiator Fans,
Skunk2 Radiator Hoses,
Renegade Motorsports Coolant Tank,
PWJdm Carbon Fiber Intake w/ Snorkel,
PWJdm Radiator Support Brackets,
PWJdm Battery Tiedown,
PWJdm DressUp Washers,
DownStar DressUp Spikes,
GladFab Engine Covers,
Custom "#RuindS2k" Coil Cover,
J's Racing Oil Cap w/ Snisen Honda Coin,
ChasingJs Brake and Clutch Covers,
AddW1 Duel Catch Cans
Exterior:
ShineAuto ASM Front Bumper with lip and canards,
SFactorFab Custom Front Splitter,
Spoon Style Side Diffusers,
Spoon Style Rear Diffuser,
VersionSelect GT Wing w/ PWJdm Hardware,
Renagade Motorsports Carbon Stands,
Veilside Style Lip Wing,
Seibon Mugen Carbon Hood,
ForceWerks Voltex Fender Flares,
Zero Auto Factory Fender Vents,
Ballade Sport Aero Mirrors w/ ChasingJs Hardware,
TeckWrap True Blood DIY Wrap,
LED FogLights,
Custom DIY Illumaesthetic LED Tail Lights
Interior
Safety21 5pt Roll Bar,
Recaro Pole Positions Jersey Red x2,
PCI Seat Rails x2,
Takata Drift 3 Harness x2,
Personal Grinta Steering Wheel w/ NSXR Horn Button,
NRG Quick Release w/ Short Hub
DIY Custom White LED Gauges,
Mugen shift knob,
Renagade Motorsports Short Shifter,
Black Leather w/Red Stitching Arm Rest,
Black Leather w/Red Stitching Shift Boot,
Recaro Fabric Covered Door Panels,
5D Carbon Vinyl Wrap Trim Panels,
Chasing Js Titanium Side Sills,
Ballistek 189/200 Arm Rest Badge,
LED Footwell Lights,
Red Checkered Floor Mats,
Custom Carnage Theme Trunk Setup,
Joying 8.8 Google Tablet Radio
Suspension
AirLift 3p Management w/ AirLift Struts,
Ballade Sports Axle Spacers,
Ballade Sports Front Camber Kit,
18x10 +25 Yokohama Advan TC4,
265/35/18 Firestone Firehawk Indy 500,
Chasing Js Titanium Lug Nuts and Valve Caps,
DC5R Brembo Brakes,
Hawk HPS Front Brake Pads,
Project Mu NS400 Rear Brake Pads,
Centric Premium Brake Rotors,
StopTech Stainless Steel Brake Lines,
ATE Typ 200 DOT4 Brake Fluid
I would like to thank first and foremost my family for going along with my crazy ideas and allowing me to keep switching cars till I found the right one. I would like to thank my pops for letting me help fix cars years ago. Thank you to Joshua Maghirang for starting my fascination with the import scene. Thank you to Team NvUS and NvUS Chicago for making it easy to be on a team that I can call family (Insert Dominic Toretto quote lol) Last but not least thank you @6spd_media and Andre Ungaro for always coming out with the fire shoots!
Thank you @StanceAutoMag for the opportunity.

What do you think?
Please leave your comments in the comments section at the bottom of the page
'The future is bright as long as we can still Smell the Fumes'
Stay Up to Date Check Out Our Google News and give us a Follow
All of our Magazine can be found on Amazon, they Print and Deliver worldwide, Stance Auto can not be held responsible for the final print, all complaints and returns must be directed to Amazon.
UKTM no: UK00003572459