Ariel Espanola 1985 Toyota Corolla GT-V 
In all honesty, I was a Nissan guy at first. But it wasn't till I actually bought a USDM version of this car that made me fall in love with corollas. It's that old cliché saying. You know it's the one when you drive it for the first time. What attracted me to this car was my very first D1GP event back in 2004.
1985 Toyota Corolla GT-V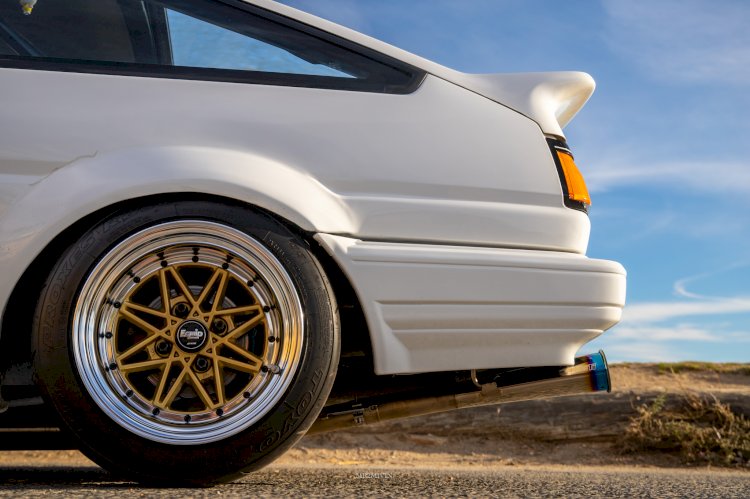 Join Our Stance Auto Mags Group, Give Our Facebook Page a Like, and Follow us on Instagram
More images are in the slider above, These Photographs are supplied by the Photographer, check their Link for Bookings.
Order the Printed Magazine HERE!!
Ariel Espanola
1985 Toyota Corolla GT-V
Instagram:@levin.yeye86
Photographer: @mr2mivin
I was born in the Philippines and now reside in Gardena Ca. The USA. I work for FedEx Freight as a commercial driver. (18 wheeler) I like to ride my mountain bike, play basketball, and attend car meets when I can. And when I'm not doing any of that I like to work on my car. I would say my family overall, from my dad, my brother, uncles and friends. Growing up I just loved the automotive scene, just going through motor trend magazines to car and driver etc.
What or who got you into cars?
Formula 1 really caught my attention when I was younger and I pretty much saw the whole Michael Schumacher Ferrari marriage dominate the sport. And I'll even check out the WRC championship, to the British touring car championship, 24 hours of Le Mans and even DTM just loved watching all the Motorsports and different car manufacturers had to offer. And just watching D1GP DVDs and videos over and over along with hot version videos, drift bible etc. I remember back in the day where I would attend the LA auto show, Hot import nights, and whatever local events that were around me.
Why did you choose this car?
In all honesty, I was a Nissan guy at first. But it wasn't till I actually bought a USDM version of this car that made me fall in love with corollas. It's that old cliché saying. You know it's the one when you drive it for the first time. What attracted me to this car was my very first D1GP event back in 2004. The AE86 cars were definitely underpowered cars against the other d1 cars that had 400+ horsepower while the Corolla's were at 200 horsepower tops. I looked up to Gen Terasaki, Ken Maeda, Katsuhiro Ueo, Taka Aono, and Toyohisa Matsuda and many more AE86 drivers. But never in my dreams did I think I'd have my very own RHD corolla. Definitely, a dream car to have and I'm very lucky to own it.
What made you customise this car?
My USDM had tasteful mods, but his car that I have now is on another level from that. It was mostly modified by the previous owner (JC Pepino). It would have definitely been exactly the way it is if I had my hands on it first. I'm basically just replacing some parts that needed to be replaced and just upgrading little things here and there such as the stacks from the ITB's, Exhaust, Coil Plugs. The car is definitely going for an N2 look with the zenki front grill and bumper.
What does it feel like owning this car?
It's a great feeling. I'd be lying to you if I told you it wasn't. When I drive the car I just get this sense of joy and a proud feeling. It's just a car that excites me, there's no other feeling like it. People do notice it and appreciate it if they know what kind of car it is haha. A lot of people don't know what it is because they're so used to the pop-up lights. But for the ones that actually know what it is, I feel they have a great sense of appreciation for it. I honestly love the car for itself and for my pleasure of driving it. People have their own opinion about it which people have the right to but I don't take it to heart when people don't like it.
What do you think makes it unique?
My car stands out because of the headlights. I feel 'it's something that' people aren't used to here in the states. Also, I feel like I stand out a lot because the car is Right-hand drive, and also the gold wheels I recently put on.
If you enjoyed this Car why not read this ONE HERE
Spec List
Engine:
4age big port with individual throttle bodies.
Modifications:
FRP Bonnet,

FRP front fenders,

Modified Rear Fenders,

FRP liftgate with Acrylic Glass.

Cusco Roll Cage,

Defi DIN Gauges,

Nardi deep Steering Wheel,

Bride Japan Zeta XL Seats.
Wheels and Suspension:
Work Equip 03's 15x8.5 -6 (F)

15x9.5 -9 (R) wrapped in Toyo R888 discontinued.

Brand new one-off suspension set up.

AE92 shocks in front and TRD blues in the rear.

With Swift Springs 8kg 6kg adjustable front lower arms,

adjustable traction bar,

TRD sway bar

Cusco front tower bar.
Brake upgrade coming soon, most likely to ProjectMu.
The car wasn't working properly. The car had an electrical shortage which caused the battery to drain in 2 days and I resolved it myself. Also, the car wasn't working properly, had to replace all of the ignition coils, and the car would shut off at stoplights due to low idle. Never worked on individual throttle bodies before and I figured out how to adjust the idler and how much airflow to take in.
Future Plans
My future plan for this car is to get it repainted. And as for the Engine, I would do a complete rebuild with new upgrades built by TEC ART'S from Japan.
Advice/Tips
My advice is, don't expect big power from these cars. I feel like people see the anime or hot version videos and think they're going to be the same way. Takes a lot to build these cars. And Parts are very hard to come by
And very very expensive. If you're ready for that, I think you'll be ok.
Looking for a new club? Have a look at the ones featured on our site HERE
Shout Outs
What did the car scene bring you?
The car scene has definitely brought me new friends, new opportunities, and maybe even sponsorship's Who knows? Hopefully, my car is cool enough for that.
Dream car
My ultimate dream car would be a Mclaren F1 LM
What do you think? leave your comments in the comments section at the bottom of the page
'The future is bright as long as we can still Smell the Fumes'
Check out our Google News give us a Follow
All of our Magazine can be found on Amazon, they Print and Deliver worldwide, Stance Auto can not be held responsible for the final print, all complaints and returns must be directed to Amazon.
UKTM no: UK00003572459