Brandon Rendon - 1998 Acura Integra
Since the Saturn, I have learned to be different and do things a little more wild which I think shows in the Integra.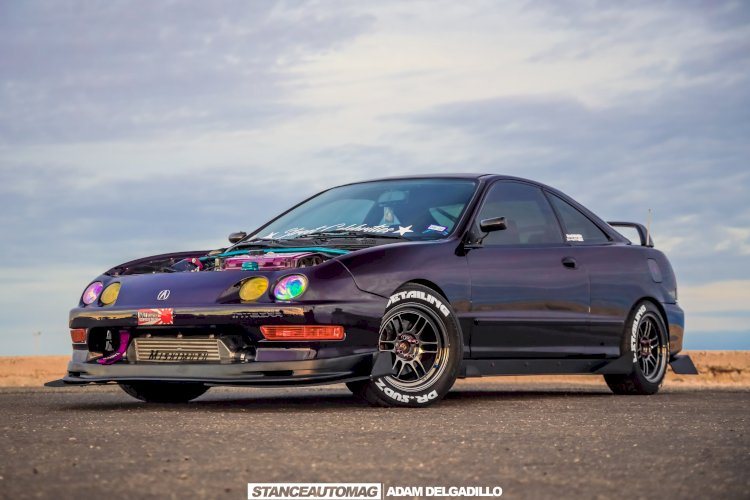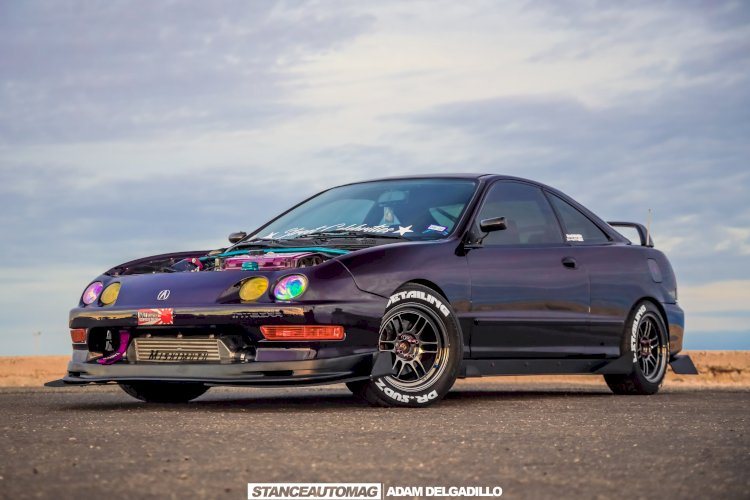 Join Stance Auto Mags Group Like our Facebook Page Follow us on Instagram
To Buy Our Printed Magazine Check out AMAZON and our MERCH STORE
More images in the slider above
Brandon Rendon
1998 Acura Integra
Instagram: @lbc.customs & @drsudzdetailing
Photographer: Adam Delgadillo / @oadam7
I live in Rockport, Texas. My very first car was a 1989 Mazda 929. I got it when I was 15, and not long after it started having problems. My mom agreed to Cosign for me so I could get another car. We went to the Mazda dealership and I told them I wanted a two-door 5-speed car. The only thing they had was a 1998 Saturn SC2. It was not what I was looking for but it is what I had to settle for. It had a 1.9 litre DOHC motor and was pretty fast due to it being so light. A friend of mine had a Civic and talked me into racing him, I ended up pulling four car lengths on him and I was instantly hooked into racing.
My brother and I grew up with a single Mom who did everything she could to make sure we had what we needed at all times and watching her work two jobs my whole childhood made me grow up to be a very hard worker. Every job I had I gave it 110%. I was making decent money throughout high school and fixed up my car as much as I could afford, which was not much lol. I graduated high school and moved to Houston with my girlfriend (now my wife) and got accepted to The Art Institute of Houston.
Do you fancy having your car featured follow this Guide
I got my first sales job and started to make some decent money. I found a local performance shop and started hanging out there all the time when I was not working and became friends with their employee who did all the custom bodywork and painting. I started helping him out on the side for free just to learn how to do custom bodywork. In the back, they had a cracked up body kit for a Honda Civic that the owner gave me. I cut it in half, cut my factory bumpers in half and fibreglass them together and made my own custom body kit for my car. After that, I got a job at a custom car audio shop and built custom interiors for vehicles.
I would work on my car on the side and build it into my very first show car. I was driving around one day and a guy stopped me to ask about my car. He said he worked at the Saturn dealership and he and his cousin built and raced Saturn's. My car was able to beat a few Honda's but it was no race car. I started hanging out with him and his cousin and sure enough, they built and raced Saturn's with nitrous. They talked me into spraying my car and I started out with a 50 shot, and then a 75 shot.
Then I built up the motor and went up to a 100 shot. I was hooked and now racing was all I worked to do. The street racing seen in Houston back in the mid-2000s was amazing. Every Wednesday and Saturday we were out till 4 am racing. I got tired of having to fill my bottle so much I asked the guys about Turbos. They told me they did not make turbo kits for our cars that you would have to have one custom made and there were only a handful of guys who have done it. That made me want to do it even more. I saved up and had a full turbo kit made for my car and almost 10K later it was done. I had it dyno tuned right at 300HP, and my best time was a 13.2 which was decent back then.
Had a blast in that car for several more years. After Houston, we moved back to Bastrop, which is where we are originally from. One day a wildfire broke out and burnt down our house and my Satun. It hurt seeing my car burnt that I did not want to build another car for a very long time. Several years later I decided I wanted to start my own business and decided it should be a detail shop. I used to detail my car so well before every show my friends started paying me to detail theirs as well so it became a passion of mine. My wife's family moved to Rockport, Texas (which is a place both of our families always visited when we were younger).
We have more Car News HERE
We decided to move there as well and open up my detail shop. It has been 8 years now and has grown into something I never dreamed of. I have had several cars that I have fixed up throughout the years of being down here but nothing too the extreme just really nice and clean. My buddy sent me a message one day and said he has an Integra for sale and knew I would be interested in it. I instantly fell in love with the car and it sparked something back up inside me that had gone out with my Saturn. I dove straight in and started customizing and making the car my own. In just a short 5 months the car was completely transformed. I went a little different and built it into an aggressive show car that has some balls lol. I still have so much more in store for this car and by next year it will be a whole new beast. I love all the attention my car gets from social media and the local scene that it keeps me going.
Since the Saturn, I have learned to be different and do things a little more wild which I think shows in the Integra. Next year I plan to Auto Cross the car but still take it to shows as well. I don't want him to just be a pavement princess her whole life lol. I would like to give a huge shout out to my wife who has always supported me through all of my builds and has even helped a lot in the designing of my builds. Also in helping me build my business into what it is today that helps pay for everything lol. I just recently started a powder coating business as well (LBC Customs) I did all of the powder coatings myself on my Integra.
Exterior:

Custom 3 stage candy metallic purple paint




Mugen style front lip




Tinted headlights




Apr gt3 carbon fibre mirrors




CCC racing 3" side skirts




Type R carbon fibre wing




Custom front splitter




Custom side splitters




Custom rear diffuser




Jdm new chrome rear tow hook




T

anaka front tow strap
Interior:

NRG matsuri steering wheel




NRG bio chrome quick release




Custom shift knob




Glow shift gauge bezel




Glow shift boost gauge




Glow shift oil temp gauge




AEM wideband o2 gauge with sensor




Jnc double din head unit




10 out of 10 flawless interior



Engine:


B20v




Cx racing ac friendly turbo manifold




Garrett 70mm turbo




Tial wastegate




HKS blow-off valve




Custom piping




Mishimoto intercooler




Mishimoto couplers




Mishimoto full-size 4-row radiator




Mishimoto dual fan set up




RC 550 injectors




AEM fuel rail w/ fpr




Blox racing intake manifold




2.5" Tanabe medallion exhaust




Innovative motor mounts




Custom powder-coated engine bay brackets




Custom powder coated valve cover




Custom oil catch also powder coated



Suspension:

Skunk 2 adjustable coil overs




Skunk 2 adjustable camber arms




Skunk 2 rear tow link arms




Imusa lower control arms



Wheels and Tires:

Enkei RPF1 15x8 +22




Rare black chrome colour




Toyo r888r 225/50/15 front




Falcon 205/50/15 rear




Custom tire stickers




All the Cars in the Online Version of our Magazine will eventually appear in our Fully Printed Magazine, the cars with the most Views, appear sooner, the Magazine is sold the world over through Amazon, making it easier and faster for people around the world to get their copy. UK and Ireland use our store stanceautomag.com

If you would like your Car and Story or Your Business Featured like this, Please
Email: Admin, they would love to hear from you.
Our site contains links to third party websites. We are not responsible for the privacy policies, practices and/or content of these web sites. Their use is at your own risk.