Ian's - Nissan R33 Skyline GTS-t Spec1
I bought this  because it was my favourite car in the original Gran Turismo game. Makes about 380bhp, maybe more after mapping.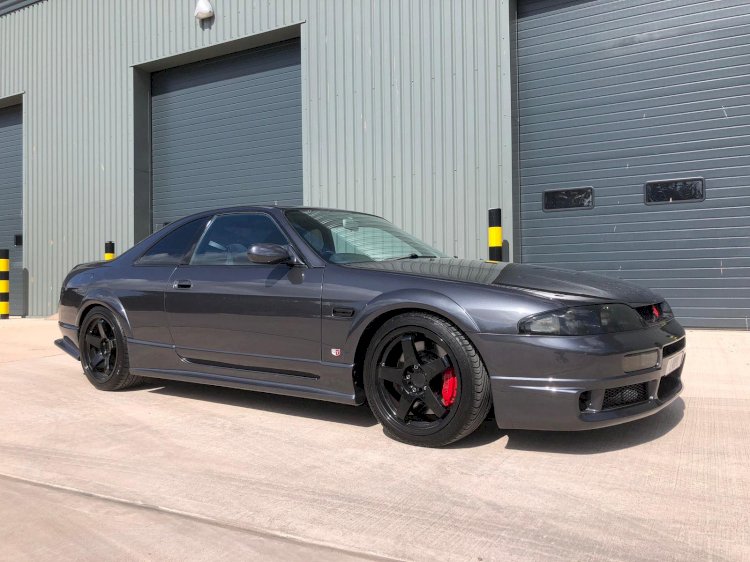 These are all of our Linx, please check below for the right link to contact, Join or Follow us:
All of our Useful LinX can be found here:
More Images in Slider Above
Nissan R33 Skyline GTS-t Spec1
Ian Kneeshaw, Senior Quality Engineer at Airbus, insta @g60inc, car enthusiast and fan of Star Wars.
I bought this because it was my favourite car in the original Gran Turismo game. Makes about 380bhp, maybe more after mapping.
Recently rebuilt and a full respray in original KH2 dark grey metallic paint, following a small accident by SC Performance in Taunton, many of the engine and chassis parts installed by the guys at Nut & Bolt Garage again in Taunton. The interior mods & stereo install was completed by myself, plus some of the detail parts in the engine bay. The car has also been painted corrected & ceramic coated by Xceed Valeting.
Many Driftworks suspension components, BC Racing coil-overs, 18" staggered wheels wrapped in Michelin PS4's, plus many more modifications.
The first car was an mk2 escort estate in beige.
Exterior wise I think it still needs a splitter on the front bumper. New ECU to be installed to get the best out of the ball bearing cored hybrid turbo, with additional supporting mods. Then interior maybe new seats, redo the dash panels and some additional gauges.
Exterior;
Type-M front bumper

OE fog lights

Nismo 400R arches & rear spats (knight racer copies)

Drag infill boot spoiler

Impul side skirts

Smoked lights

Tinted rear windows

GTR style grill
Chassis;
BC Racing coilovers

Driftworks camber & lower arms and tie rods

Driftworks HICAS delete

Japspeed front lower strut brace

Front upper strut brace

Do-Luck b-pillar brace

OE rear strut brace

Spaced front callipers to fit GTR discs

Driftworks braided brake lines
Engine;
Turbo Dynamics ball bearing cored hybrid turbo

Japspeed turbo elbow & downpipe

3" exhaust system to HKS backbox

Walbro 255lph fuel pump

Apexi cone filter

Nistune ECU

FMIC with custom pipes

Aircon deleted
Interior;
OMP pedal covers & deep dish steering wheel

Alpine 7" double din touch screen with reversing camera

JL Audio speakers & amp

Underglow & footwell lights

OE floor mats

Aero switches in a custom carbon fibre panel

Driftworks gear knob

GK Tech handbrake sleeve

Leather gaiters

Apexi 60mm boost gauge

Chrome dial rings too
Member of the Skyline Owners Forum and a couple of Facebook & local clubs.
I don't enter shows, prefer to use the car on the road and the occasional drag race. Hoping to take it to the Nurburgring next year, but I have driven the car around the Monaco street circuit and to the Stelvio pass in Italy.
My preference is met, I have a group of like-minded friends so it's cool to drive the cars somewhere and catch up with people.
The absolute dream car would have to be a Porsche 911 (993) turbo, in black on BBS split rims.
All the Cars in the Online Version of our Magazine will eventually appear in our Fully Printed Magazine, the cars with the most Views, appear sooner, the Magazine is sold the world over through Amazon, making it easier and faster for people around the world to get their copy. UK and Ireland use our store stanceautomag.com

If you would like your Car and Story or Your Business Featured like this, Please
Email: Admin, they would love to hear from you.
Our site contains links to third party websites. We are not responsible for the privacy policies, practices and/or content of these web sites. Their use is at your own risk.