Jody Wilson - 2015 Honda Civic Si Coupe
I have always loved Civics and once I had seen my car I fell in love, one of my favourite colours is red so that's what I used to brighten the car up and make it stand out from others.  In the very near future, I have plans to turbo the vehicle and a new paint job
2015 Honda Civic Si Coupe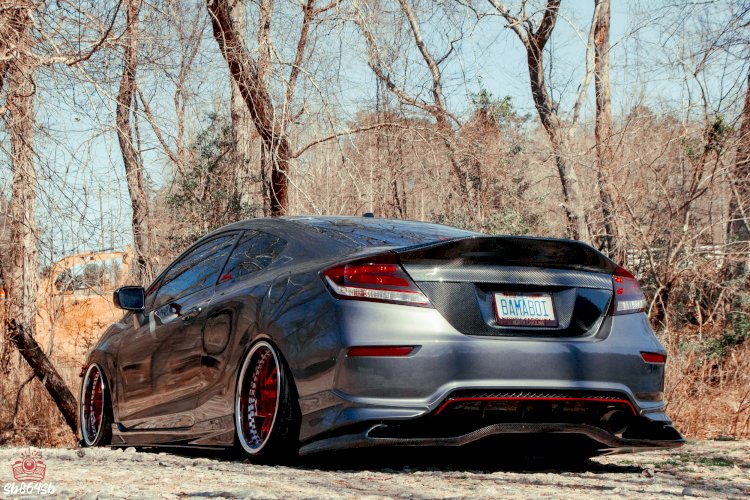 Join Our Stance Auto Mags Group, Give Our Facebook Page a Like, and Follow us on Instagram
More images are in the slider above, SLIDE LEFT>>>>>>>>>>>
These Photographs are supplied by the Photographer, check their Link for Bookings.
Order the Printed Magazine HERE!!
For over 40 years, the Honda Civic has been a popular car among drivers from around the world due to its reliability, affordability, features and Body shape. There have been a load of different models from four-door sedans to two-door hatchbacks, cheap runabouts and loved performance cars, this has made them very customisable like this example below.
The Civic showed the world that front-wheel-drive cars could be fun and that Japanese cars weren't just reliable, fuel-efficient cheap runabouts, but they were great cars too, the JDM scene exploded the world over and this car fitted in very well. These cars have completely changed over the years and with well over 20 million units sold, it is one of the most popular cars of all time. It is one of the longest-running nameplates in automotive history and shows no signs of slowing down.
Any wonder most young people choose this particular car to turn into hot street machines, with bigger turbo's and body styling to some beautiful colours, these cars are sure to stick around for a long time, check out all the Photographs they certainly do this car the justice it deserves, the photographer, choosing the right location for a photoshoot is key, here we can see he as chosen an area full of graffiti, I think you can agree this is the perfection location, with the art on the wall and this car looking like a piece of very well put together art, the 2 don't clash, instead, they highlight each other and stand out like a statement, he captured it in its perfect light.
Jody Wilson
2015 Honda Civic Si Coupe
Instagram: @dilated_bamaboi
Photographer: @sb864sb
I am from Fletcher NC and I own a 2015 Honda Civic Si Coupe. I grew up with a love for cars. The love I have for cars and working on them is indescribable and made me appreciate cars, especially this one even more. Every upgrade or modification to my vehicle, I have done myself. I installed everything from the 3p Airlift suspension, Braum racing seats, ktuned fuel rail, and the custom headlights to the trunk setup.
I have always loved Civics and once I had seen my car I fell in love, one of my favourite colours is red so that's what I used to brighten the car up and make it stand out from others. In the very near future, I have plans to turbo the vehicle and a new paint job. Im currently the East Coat Regional Lead and North Carolina state lead of my club, @TeamDilated. We go to car shows and meet together, through the car scene, I get to enjoy my love for cars and I also have met some great people and made alot of good friends.
Here are a few of the upgrades and mods that I feel make my car stand out and unique, the red Braum racing seats match very well with the custom headlights and the WCI wheels. The custom houndstooth work from my sponsor at @H20creations on the valve cover and other engine mods and other work throughout the vehicle. I would like to give thanks to a few people that have helped and made this build possible.
If you enjoyed this Car why not read this ONE HERE
Spec List
Exterior:
Custom Precision workz headlights (custom painted /demon eyes multicolour, Si etched in the lens)
Morimoto HID headlight kit
Morimoto HID Turn Signals
Custom CF Front Splitter
Splitter Rods
Custom Window Vents (Red)
HFP body kit
Kevmanz CF Trink w/ duckbill wing
Cf roof strips
Cf/ Houndstooth Fog bezel accents
Tinted Windows
MPC Front Bumper Quick Release
Multicolor Fog lights
Oneup Lighting Underground Effects
Custom Rotors(Si etched in)
Cf side splitters
Paint matched Ikon Front Lip
Seibon CF Hood
Seibon CF Fenders
Mugen CF door lock guards
Lambo Doors
CF Vtex Rear Diffuser
Mugen Door Handle Scratch Guards
Sickspeed 3pc lugs
INTERIOR:
Braum Racing seats ( red leather)
Braum 5pt Racing Harnesses
Braum Harness Bar
Leather flooring (black w/ red stitching
Hybrid Short Shifter
Hybrid Shifter Knob
Custom shift boot dete
Custom Houndstooth Interior Trim
Cf Cup Holder Cover
Mugen Cf Rear View Mirror Cover
Custom Trunk Set-Up
Airlift 5g Tank ( Powdercoated Black w/ Red Dilated Logo)
Via air 444c Compressor (Black)
Airlift Management (Custom Face)
Kicker Solo Bari 12" Sub
1600 watt Kicker Amp
LEDs In Trunk (multicolour)
CF Door Sills w/ Civic Print (red lettering)
Custom CF steering wheel
Custom Houndstooth door panels
Rear seat delete
Custom Cf Steering Wheel
Houndstooth E Brake Handle
ENGINE BAY:
Valve Cover (Houndstooth)
Custom Cf Spark Plug Cover ( IG Handle etched in)
Skunk2 Intake Manifold (Black/Houndstooth
Skunk2 CAI w/ battery relocated
K Tuned Radiator Cap
K Tuned Breathers
Houndstooth ECU Cover
Password JDM Cf Cooling Plate
Password JDM Cf Fuse Box Cover
Password JDM Cf Pulley Cover
MPC Under Hood Bolt Dress Up Hardware
Si Brake Reservoir Boot
Skunk2 Alpha Downpipe
Skunk2 Megapower Full Exhaust
Engine lights
HFP Radiator Hoses (Red)
Ktuned Fuel Rail w/ Fuel Gauge
SUSPENSION:
Airlift 3p Management System
K Tuned Front/Rear Camber Kit
Truhart Rear Subframe Brace
SiriMoto Phase 2 Lower Tie Bar
SiriMoto Phase 2 Trunk Brace
WHEELS:
Custom WCI Wheels chrome/Powdercoated red
Staggered Setup
Front 18x9.5
Rear 18x10
215/35/18 Federal Tires
Thank you to H20creations for all the amazing work, Eduardo Chavez for striving for me and encouraging me to make my build better, Thomas Hibell and Justin Weaver for always helping me, Crystal Rogers for always supporting me and all my family in Team Dilated!
What do you think?
Please leave your comments in the comments section at the bottom of the page
'The future is bright as long as we can still Smell the Fumes'
Stay Up to Date Check Out Our Google News and give us a Follow
All of our Magazine can be found on Amazon, they Print and Deliver worldwide, Stance Auto can not be held responsible for the final print, all complaints and returns must be directed to Amazon.
UKTM no: UK00003572459