Joe Zamora 1995 Nissan 240SX (S14.5)
Growing up in the '90s, S-Chassis were the bee's knees. I have owned 6 now to this day and got into other chassis but somehow always came back in full swing. I started with a fully modified S13 with an SR20 redtop and Silvia front end conversion (extremely spoiled for my first s-chassis) and eventually moved onto the S14 chassis where I just felt it fit me so much more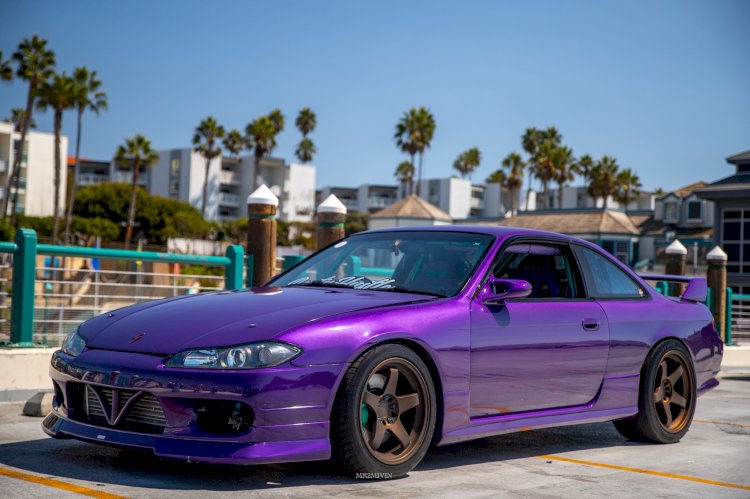 1995 Nissan 240SX (S14.5)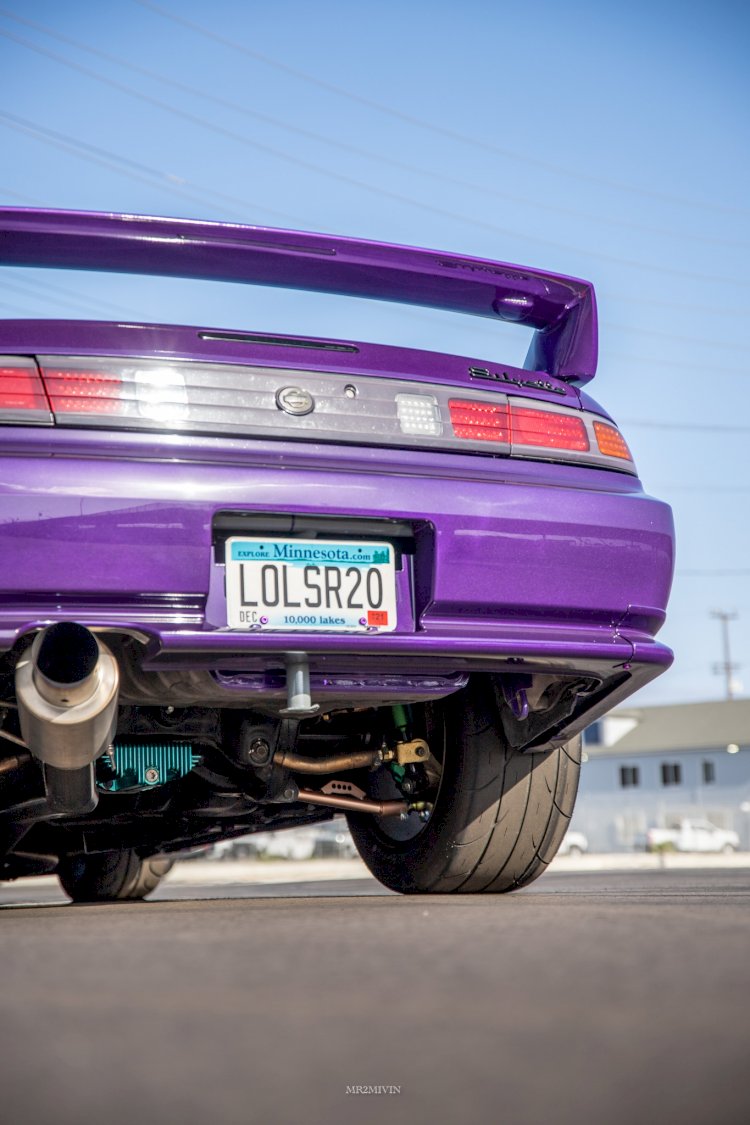 Join Our Stance Auto Mags Group, Give Our Facebook Page a Like, and Follow us on Instagram
More images are in the slider above, These Photographs are supplied by the Photographer, check their Link for Bookings.
Order the Printed Magazine HERE!!
Joe Zamora
1995 Nissan 240SX (S14.5)
Instagram @BuiltByJoe
Photographers @Mr2mivin
I'm not your average "Joe," but an extremely detail-oriented individual. I am a heavy equipment technician with a wealth of experience in diesel, hydraulic, and electrical. Car enthusiast? Sure, that's one aspect. I like the term builder because I enjoy putting things together with my own hands. If it has a seat and some form of power plant, strong chance you have my attention.
What or got you interested in cars?
My grandpa was an electrician for Socal Edison his entire life, but he had a strong passion for automotive as well. Mainly classic cars of course, but the biggest takeaway (so many to choose) was his persistence to always do things right, especially if it meant going the long route. I try to do everything on my car too 110% or better, even if that detail will never be seen again. These little details are what set my builds apart from so many to come.
Why did you choose this car?
Growing up in the '90s, S-Chassis were the bee's knees. I have owned 6 now to this day and got into other chassis but somehow always came back in full swing. I started with a fully modified S13 with an SR20 redtop and Silvia front end conversion (extremely spoiled for my first s-chassis) and eventually moved onto the S14 chassis where I just felt it fit me so much more. I obviously am keen on the front end of S15 but that's where it stops. I will say I do have other vehicles and many others of interest, but at this point, I cannot see myself not owning an S-chassis.
Why did you customize this car?
I have a problem that I cannot leave cars alone, even my daily I modified a few parts already. The S-chassis has so many options of how you can go about modifying it and it's very difficult to be different. This build for me was honestly a learning process and test to see what my abilities were. The goal was to do exactly what I wanted to do with all those previous chassis's but never had the finances or technical abilities to. Also more importantly not care about others' views of what I was doing wrong or right.
What does it feel like to own your car?
It might be cliche to say, but it's really just my "car." I do love to hear from people and others who have seen or followed my build and tell me their thoughts on it now. The appreciation of all the hard work and the looks on the kids faces is what I cherish the most.
Advice/Tips?
Always always always do whatever it is that you want with your car! Do not take no for an answer and If you have a vision, make sure you see it through! I saw my car many years ago in my head and now it's here.
What do you think makes your car unique?
Absolutely everything, the RHD Ls swapped chassis, the amount of hard to find/rare parts, and the dedication to ensuring things were exactly how I wanted them. So much time and effort have gone into this build from not only myself but some very helpful and talented individuals from around the world.
If you enjoyed this Car why not read this ONE HERE
Spec List
Engine:
Chevy LS1 - Forged/Built

Sikky RHD Swap kit - Headers, Driveshaft, Oil pan, mounts

Vortech V3 Centrifugal supercharger

Vortech bypass valve

ZPE supercharger pulley

ARP Hardware

GM Hot cam

GM performance springs

Michigan Motorsports trunnions

243 Heads - Ported

LS7 MLS head gaskets

Mahley one-piece pushrods

Bosch 1000cc injectors

FAST 92MM Intake

Nick Williams 92MM throttle body

ChaseBays tucked radiator

Custom titanium charge piping
Exhaust:
Sikky 1 3/4" Headers - JetHot coated

Vibrant oval 3.5" stainless y pipe

Vibrant 3.5" titanium muffler, custom tip.
Performance Electronics:
Link Storm standalone ECU

Panic Wire jumper
Drivetrain:
Tremec T56 6 speed

McLeod racing Magforce twin-disc clutch/flywheel

McLeod throw out bearing

Early Infiniti Q45 rear diff 3.54

Z32TT hubs

Z32TT driver axle

Q45 driver axle

Sikky aluminium driveshaft
Wheels/Tires:
Front:
Rays Nismo LMGT4 17x9 +22

Federal 595 245/40/17

Rampage fabrication titanium lug nuts
Rear:
Rays Nismo LMGT4 18x10.5 +15

Hoosier A7 drag radial 275/35/18

Rampage fabrication titanium lug nuts
Brakes:
Front:
Brembo CTSV 4 piston callipers

Stoptech track day pads

Stoptech 350Z slotted rotors
Rear:
Brembo STI 2 piston callipers

Stoptech track day pads

Stoptech Z32 slotted rotor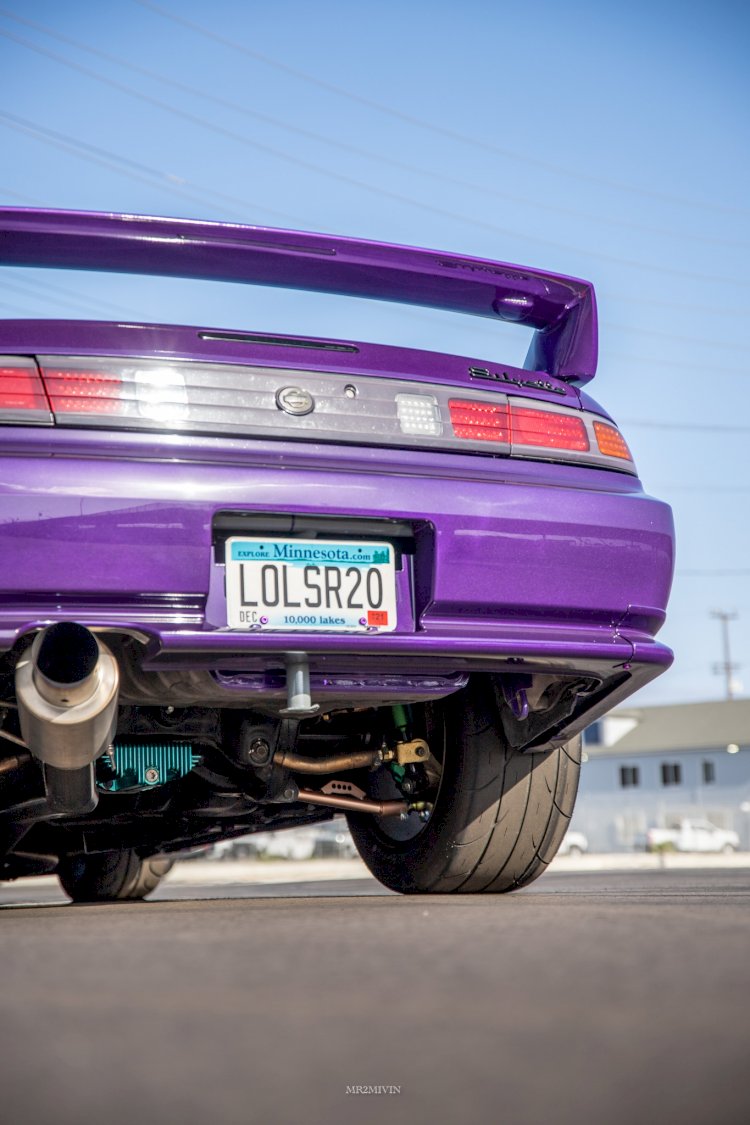 Suspension/Chassis:
Chassis:
Tomei 3pt strut bar

GT spec fender braces

Nismo power brace

Sikky swap bar

Autopower 6pt cage

PBM Diff mounts

Energy Suspension poly subframe bushings
Suspension:
Fortune Auto 500+ custom coilovers

GKTech V4 front grip knuckles

Megan racing FLCA

PBM rear drop knuckles

PBM limit brake RLCA

PBM camber, toe, traction arms
Exterior:
S15 full metal front end conversion (grafted s14 fender to s15 fender, deleted s15 front fender marker)

OEM spec s bumper - plate delete

OEM Navan side skirts

OEM Kouki wing + valances + rear bumper

Greddy Gracer front lip

Custom paint job inside/outside

Ganador side view mirrors

New moldings all windows/doors
Lighting:
Illumaesthetic custom led rear taillights

LED front headlight bulbs

Custom starlight headliner

OEM Nissan optional s14 Silvia lighting package
Interior:
Status Racing custom seats + harnesses

Custom seat rails

Nismo 270R gauge pod

Reupholstered headliner + door panels

Nismo 400R titanium shift knob

OEM Nissan S14 HUD

LRB rear panel delete

TechnoToyTuning C pillar bar

Fitment Silvia floor mats
The bodywork was done by JV Auto body in Santa Ana, Ca and the welding/fab work was done by Fabchild (Ryan) at Humble Engineering. The rest of the mechanical work including all the assembly and wiring is all myself. I know every single bolt and part on this car down to the bolts used and even some of the paint prep work. I like to have my hands in every aspect of the car because to me that's what a true builder does with their build.
Future Plans
I have a large range of improvements to Silvette. Going for more horsepower and efficient set-up now for hopeful track time in the future. Vortech Superchargers has been so amazing in my sponsorship with them, I am moving from the V3 to the V7 YSI blower and ethanol. Along with some changes to the S-chassis platform that has had little innovation throughout the years, so more on this to come!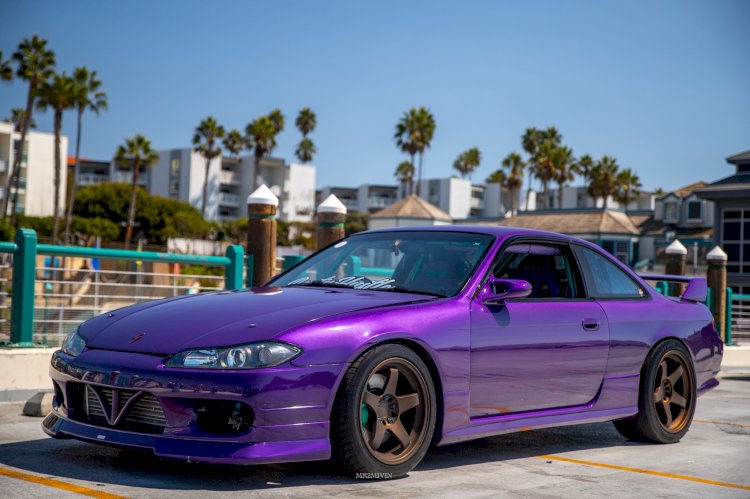 Groups/Clubs
My main sponsors are Vortech Superchargers, Dress Up Bolts, and McLeod Racing and my current car club is Booty Hustlers here in southern California.
What do you get from the car scene?
The most impressive and amazing thing about the automotive world is that there doesn't have to be a language barrier or cultural difference. Yes, our styles and ideas change from person to person, country to country and so on. The passion for building and being a part of that hobby is what can bring so many different people together and I know I have met some truly amazing people that have now turned into some of my best friends.
Looking for a new club? Have a look at the ones featured on our site HERE
What's your dream car?
The one car that has eluded me forever has been a 3rd generation RX7 FD. I owned an 89 T2 FC back when I was 18yrs old and I fell in love with the rotary. I have plans to pick up a shell soon and start building my dream car once my Altezza is running.
What do you think? leave your comments in the comments section at the bottom of the page
'The future is bright as long as we can still Smell the Fumes'
Check out our Google News give us a Follow
All of our Magazine can be found on Amazon, they Print and Deliver worldwide, Stance Auto can not be held responsible for the final print, all complaints and returns must be directed to Amazon.
UKTM no: UK00003572459