John - 2004 honda civic ep2 sport
I custom made my own front lights by splitting them, painting them satin black, installing some colour changing halos and modding the lights to give a JDM look moving the sidelights down and making them orange.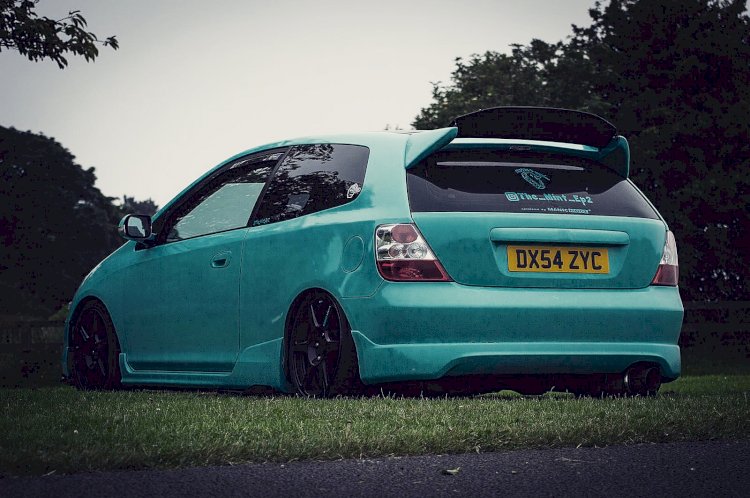 Join Stance Auto Mags Group Like our Facebook Page Follow us on Instagram
Check out our MERCH STORE
More images in the slider above
John
2004 honda civic ep2 sport
Instagram: @that_punto_evo
Photographer:@tylerh_photography_
Help and support
@the_blue_350z (my garage)
@lilziller33 (sprayer and body man)
@that_black_ms_mx5 (my go-to)
@_manic_modz_ (sponsor)
@dynamic.decals (sponsor)
I am 25 years old and live in North Yorkshire, I currently work for one of the biggest food disruption companies in the UK. From a young age, I've always shown interest in cars but with the help from my family and friends, I had learnt a bit over the years and used my knowledge to try and create something a little different and unique.
I saw a friend Mike was selling a two-tone grey 2004 1.6 honda civic ep2 (type r replica) cheap and at the time I was passing my test, I put a deposit on the car with the intentions of buying the car after passing my test but one night I got the train home and as I got to the station there it was outside, my partner had paid the rest of the car off as a surprise and at the time I had my test booked so I was still a learner.
After passing my test a couple of weeks later I thought I would add my own little touches to the car like wheels, stereo, led lights and clean and paint the engine bay. Not long after I hit a deer and made a bit off a mess so I decided to go a little further and decided I wanted something different to any other ep2, I had never seen an ep civic with a smooth rear so I decided I would give it a try and it was my first time filling and smoothing.
I custom made my own front lights by splitting them, painting them satin black, installing some colour changing halos and modding the lights to give a JDM look moving the sidelights down and making them orange. Before long I had spent more than the car was worth in parts and mods and decided on a colour with my friend Dave who's a painter/body man and removed the type R look as it wasn't a status it deserves.
With help from friends and family, all the parts were fitted and the car was prepped for paint. I suffer from multiple mental health issues and my car was my go-to when I felt low rain or shine and to work on something I worked so hard for with my close friend helped me a great deal.
Here's the following of everything I can remember as there was such a lot done in a year and a half.
HKS mushroom filter

New battery

Engine bay dress-up kit

17" Evo 8 Enkei in metallic black

Mtec drilled and grooved discs

Brembo pads

FK coilovers

Yellow speed racing camber top mounts

Sports cat

M2 centre pipe

M2 sidewinder backbox

Mugen spoiler

Samurai rubber lip

Custom headlights (10.000lm led bulbs)(dipped beam)

JDM side light conversion

15.000lm led bulbs (main beam)

Wing mirror puddle lights

RS style Bonnet vents

Side skirt extensions

Type r seats

Aluminium gear knob

OEM fog lights (15.000lm led bulbs)

Badge and lock delete on the boot all smoothed out

Full respray in Porsche 911 peppermint green

Matt nardo grey roof

Skunk 2 racing Lower control arms

Beaks tie bar

Gel plates

Carbon door garnish skins

Led number plate lights

Double din stereo

Front pioneer 900w speakers, Bose rear speakers and 900w 6x9 pioneer speakers in the parcel shelf

White footwell lights
This car is well known and over time some haters turned into lovers, yes hondas are like marmite but some minds can be changed and this car did that, everywhere I went I was flashed by other cars, waved at and photos sent to me.
All the work from start to finish is on my Instagram @that_punto_evo so please feel free to check it out and use it as some form as inspiration, anything can be achieved and overcome if you put your mind to it and the most important thing is DON'T GIVE UP!
Dream car would be either an Evo 5 or Evo 6

If you would like your Car and Story or Your Business Featured like this, Please
Email: Carla, Shannon, Andz or Admin, they would love to hear from you.
Our site contains links to third party websites. We are not responsible for the privacy policies, practices and/or content of these web sites. Their use is at your own risk.