Michael - Bagged 2013 Ford Focus ST.
In early 2017 I set out once again, to find a new car. I knew my next car needed to be technologically advanced, turbocharged and manual.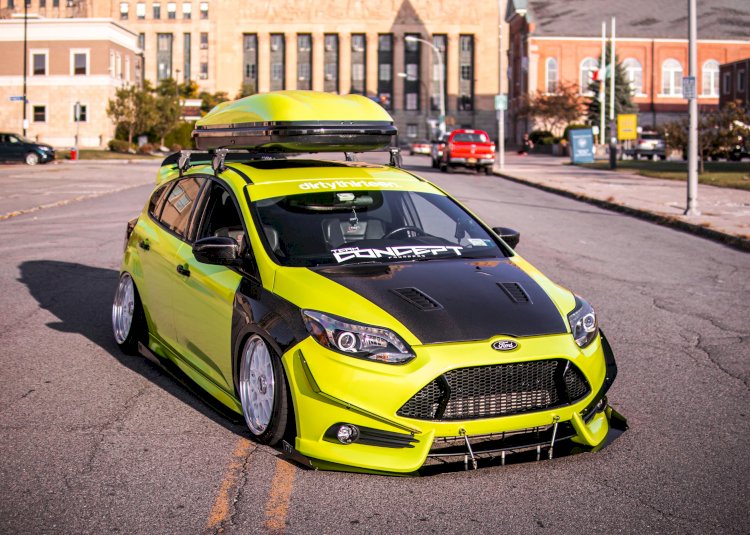 Join Stance Auto Mags Group Like our Facebook Page Follow us on Instagram
To Buy Our Printed Magazine Check out AMAZON and our MERCH STORE
More images in the slider above
This Car is in the Special Ford Printed Magazine and Ford Calendar


Michael
I own a Bagged 2013 Ford Focus ST.
Instagram: @thatmansmike
Photographer: @fireblazinmedia
My life in the car scene consists of local meets and car shows I attend with my friends and family. Going to meets allowed me the opportunity to meet some of the guys in the group @TeamConcept. It did not take long before I knew I wanted to be a part of the group, rather than just standing by at car events.
This group has opened me up to so many new car friends and amazing experiences and opportunities. I remember back to when I first got involved with the car scene, like many other car enthusiasts I fell in love with cars because of the Fast and Furious franchise. Throughout high school, my friends that were a couple of years older than myself began buying cars, after being with them at meets and helping them with car projects my love for this hobby grew.
The first car that brought me into the scene was an Mk4 Volkswagen Jetta. I loved this car; it was tornado red with a 1.8-litre turbo and 5-speed gearbox. Like many older cars, this Jetta was far from perfect. Eventually, it began leaking oil beyond repair, although this was a sad realization, I was ready to find something else to provide me just as much fun.
In early 2017 I set out once again, to find a new car. I knew my next car needed to be technologically advanced, turbocharged and manual.
My selected fleet was a turbocharged Mini Cooper S, Fiat 500 Abarth, Volkswagen GTI, and an Mk3 Ford Focus ST since I could not afford the Mk3 Ford Focus RS that was recently introduced. After a long weekend of going back and forth, I went to test drive the Focus ST and almost fell in love instantly. Everything about it was perfect to me, the way the Recaro's held me in place, the growl from the motor, the smooth shifting of the 6-speed gearbox, I knew this would be my car.
A few days later, I went back to the dealership and purchased the fully loaded Focus ST in tuxedo black. I drove the car as it was for about two years until I became bored, but I saw potential in the vehicle, and this is where the journey really began. I knew immediately I needed a tune and mapped the car with an off the shelf Cobb tune.
My next move was purchasing a catless downpipe, an AWE track edition exhaust and had my mind on loads of other bits to make the car quicker. After about one year of the car being mapped on nothing but an off the shelf tune, I decided it needed more. I purchased an intercooler, intake, motor mounts, new plug upgrade, tial blow-off valve, and charge pipes, everything that was suggested for a proper Stage 3 map. As for tuning, I paired with Brian Tyson at JST- Performance for a 93 map that woke the car up tremendously.
During this time, I also ordered a complete aero kit from VegaModified.com, this included a front splitter, side skirt extensions, canards, rear diffuser, and a spoiler extension. I then added Raceland Coilover suspension and put Fifteen52 formula GT wheels on the Focus. Next to my list of purchases was a carbon vented hood by Seibon composites and Mk3 Focus RS Brembos. What I thought would top off the final piece to my car was my license plate which reads 2BRKE4RS, I thought this was pretty fitting since back when I purchased the ST, I couldn't afford the RS at the time.
After a few years of the car being tuned and fitted with its new look, I decided once again it was time to do something different. I then bought an Airlift 3p kit from a friend that was parting his ST. I soon after started my hunt for the perfect wrap colour. I wanted to stand out and do something that was never done on an ST. Teckwraps Acid Lime won me over right away. I slowly began to see the vision I had in my head come to life. Soon enough, I got a lead on a guy located in Poland that makes custom wheels in any desired specs or colours you could want. I expressed to him my interest in having custom BBS RS2's with white faces and high polished stepped lips. A month passed and my wheels were finally completed and shipped from Poland all the way to me in New York.
I then purchased more carbon fibre pieces to compliment my hood. I ordered carbon mirror covers, vented carbon fenders from Anderson composites and a carbon trim package which includes trim around the mirror, both B and C pillars, door handles, gas tank door, scratchplate on my rear bumper, trunk garnish, and a custom set of full carbon fibre Ford emblems from a person in Turkey.
I decided my headlights needed updating so I got my hands on a set of circuit demon retrofit headlights. The final steps to having my car complete were to revamp my aero with a new set of canards, updated spoiler extension, rear diffuser and a V1.5 front splitter from Vega Modified. Lastly was to dial in my fitment on my new wheels.
What sets my ST apart from others is my attention to detail. I took a chance and did something unique that I have not seen done before, in order to stand out. The colour of the wrap, the customization of the BBS wheels, my one of fifty Beeks Deep Dish grill, the real carbon fibre additions, and the colour matched Thule cargo box made my car one of a kind. I am more than happy with the way the car has turned out, and how much love and respect the vehicle receives.
Spec List:
Interior:
Oem ST3 leather Recaros,
Full Sony head unit
Sony 8in subwoofer
Exterior:
Vega Modified aero (side skirts,
front splitter,
rear diffuser,
Canards and spoiler extension)
Teckwrap Acid Lime vinyl,
Custom BBS RS2s,
Mk3 Focus RS Brembos,
Beeks deep-dish grille,
Window Louvers,
Thule cargo box,
Circuit Demon retrofit headlights,
Diode Dynamics led fog lights,
Spec D smoked taillights,
Smoked sequential mirror signals,
Fifteen52 Cup spoilers,
Seibon Carbon fibre vented hood,
Mirrors and trunk garnish,
Anderson composites carbon vented fenders,
AWD mods Carbon Trim,
California pony cars carbon scratchplate,
Custom carbon fibre Ford emblems.
Performance mods:
AWE track edition Exhaust,
Depo racing Catless downpipe,
Damond racing motor mounts,
Cobb intake,
Cobb intercooler and charge pipes,
Steeda sound symposer delete kit,
CPE tial exhale kit,
Custom JST Stage 3 tune
Suspension:
Airlift performance 3p management,
Steeda massive end links
Godspeed camber arms
Big thanks to all the below, give them a follow
@whoribly_3uro and @oneupperformance for helping me install things @vegamodified for the kit @teamconcept for allowing me in the group @fireblazinmedia for the solid photos and support @thelab.na for the vinyl work @pat_solchaga and @brianlohouse for installing the air ride with me @shaudi_blue for all my detailing and ceramic coating needs
All the Cars in the Online Version of our Magazine will eventually appear in our Fully Printed Magazine, the cars with the most Views, appear sooner, the Magazine is sold the world over through Amazon, making it easier and faster for people around the world to get their copy. UK and Ireland use our store stanceautomag.com

If you would like your Car and Story or Your Business Featured like this, Please
Email: Carla, Shannon, Andz or Admin, they would love to hear from you.