Ty Morris - 1972 Chevrolet C10 - Custom Built Truck
I have had the truck for over 10 years, my father bought it to use around the house and I had always told him I wanted it then he eventually gave it to me.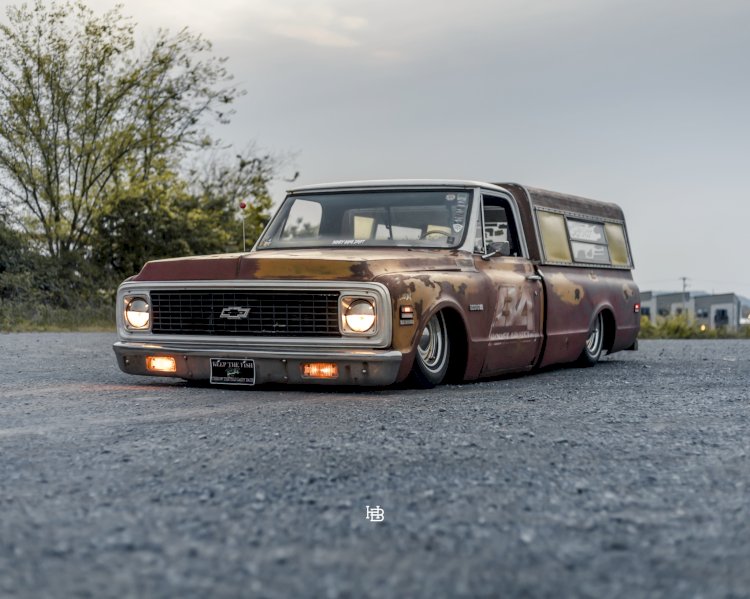 1972 Chevrolet C10 - Custom Built Truck
All the Cars in the Online Version of our Magazine will eventually appear in our Fully Printed Magazine, the cars with the most views, appear sooner so keep sharing your articles with the share buttons at the top of the articles, or copy the web link into Bios, Posts on Social Media and the Internet.
More images in the slider above
Ty Morris
1972 Chevrolet C10 - Custom Built Truck
Instagram: @mytorris
Photographer: @haydenburchettphotography
Check out our Google News give us a Follow
I'm from Nashville Tennessee, I am a diesel mechanic at a shop called Boost Addicts, hang out with friends go to car shows, drift events, drag races, anything that involves wheels, I'm usually there.
What got you into Cars?
My dad more or less would always take me to car shows as a kid and I would always watch tv shows that had to do with customizing vehicles or racing or really anything that goes with a vehicle. As I grew up me and my friends always had trucks we would add wheels to or tint the windows or paint match exterior pieces or change the exhaust just anything we could do to get more attention. Which wasn't always a good thing. Local police loved us. Just getting to meet new people and see new things every time we all go out is always my favourite thing.
Is this your first Truck?
Yes, I have had the truck for over 10 years, my father bought it to use around the house and I had always told him I wanted it then he eventually gave it to me. I've had many other trucks and cars and have always had a custom vehicle.
Why this Truck?
It was the first thing I have ever drove and I've always had a sweet spot for these trucks. They are such a simple design and you won't ever see any other one that looks like it. I have always liked Chevrolet's, from trucks to cars and anything in between. I'm more of a truck person than anything else. I currently have three including this one.
When I walk up to it in a parking lot or wherever it may be sitting it always puts a smile on my face. It's proved to me that Hard work can inevitably get you what and where you want in life. Every time I get it out and go to a local cruise-in or just take it out to go cruise around I always get thumbs up or a big smile on someone's face. It always brings me joy to see that I can make someone else smile or that something I have is actually cool to people.
Advice/Tips
Very simple to work on if you want one as your first vehicle. Parts are more and more available to get now than ever. Very easy driver in stock form and as obvious there's always potential to make something cool out of it. Plus it's a truck, who doesn't love a truck!
I eventually would like to repaint the truck and redo the suspension and frame. I and my friends built the truck a few years ago and I was pretty much scraping up what I had to build the truck so a lot of things aren't the best. Just make sure you have your ducks in a row and never cut any corners on anything, it's still an old truck that only has a lap belt seat belt.
Get Your Car Featured Follow This
What makes your Truck Unique?
The truck lays on the ground so I feel like that's a huge part. I try and keep the modifications period correct with everything I do. The truck is ls swapped and has a big cam and pretty much open header exhaust so it draws attention before you ever see it. It always gets drove hard too and people see it and hear it and think it's the coolest thing ever.
Spec List
Engine,
5.3 LM7,
BTR Stage 4 V1 truck cam,
Speed engineering shorty headers.
Exterior,
Everything's relatively stock on the outside minus the wheels, they are 15x6 steel wheels I painted white. I found a period correct rear dealership bumper and a period-correct topper for it.
Interior,
Stock seat wrapped in a serape blanket I found at a local gas station,
Old glass doorknob shifter,
Dash pad is wrapped in the same blanket as the seat,
Sparkly gold moon eyes steering wheel.
Wheels,
Suspension,
custom-built control arms and bag brackets, the front cross member is "pancaked" in which drops the front of the truck another 1.5" so it will lay, the rear is the factory trailing arms, 2" blocks and a monster notch with a watts link.
Did you do all the work?
For the most part, yes, but I can't keep all of the glory, a lot of my friends have always helped me get the truck to where it is today. From just bagging the truck to the ls swap or just simply from me breaking something I have always had a lending hand and I can't thank my friends and family enough for the help and support they have given me.
Future Plans
Eventually, I would like to redo the frame and suspension as I stated earlier, and eventually, I would love to repaint the truck. It's still going to be a driver so I don't want anything perfect. I drive the truck too much and have too much fun in it for it to have a nice paint job. Wheels and tires are always on my mind. I'd like to add heat and ac to the truck eventually as well. The engine will also get pulled back out at some point and get a full overhaul and maybe a turbo kit.
Looking for a new club? Have a look at the ones featured on our site HERE
Groups/Clubs
Not a part of any Clubs or groups or anything of that order, I and my friends just hang out and go cruising around or just help each other get their vehicles back going.
It brought me closer to a lot of people and helped me meet a lot of new people. It had always been a hobby of mine. I enjoy seeing what everyone else can build and think of. There are always new ideas popping up for everything you can do to these trucks and the vehicles that we all have and love.
If you enjoyed this Truck why not read this ONE HERE
Dream Car
A 1952 Chevrolet Belair. My grandfather had one when he was in his younger years and he always told me how much he loved them. It's funny because when he first told me about it I had always thought they were the ugliest cars but at the time I had never seen
What do you think of this Motor leave your comments in the comments section at the bottom of the page?
All of our Magazine can be found on Amazon, they Print and Deliver it, Stance Auto can not be held responsible for the final print, all complaints and returns must be directed to Amazon.