Brandon Cox 2019 Kia optima
Many people ask me why I built a Kia Optima out of any car I could have chosen. I ask them why not, when do you ever see a Kia Optima built or on bags.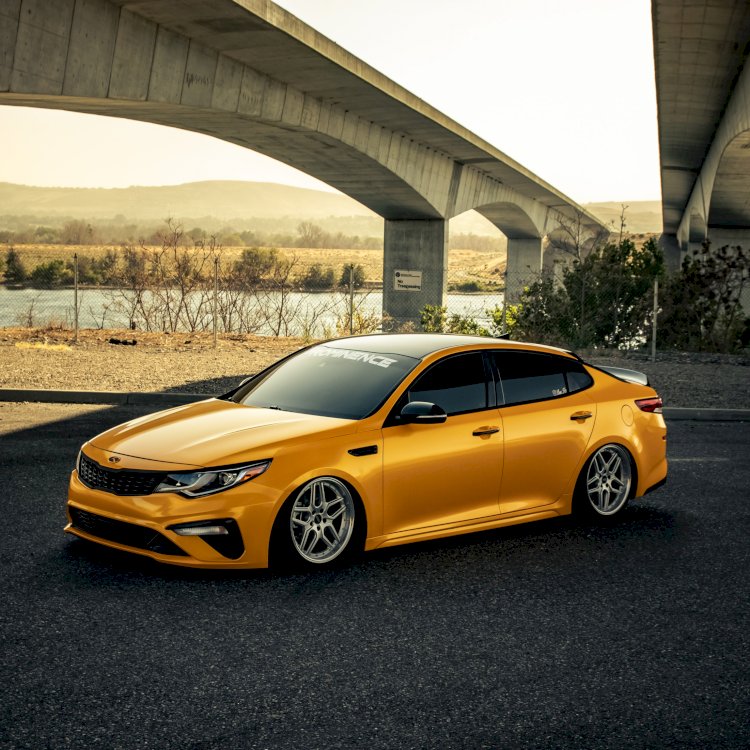 2019 Kia optima
All the Cars in the Online Version of our Magazine will eventually appear in our Fully Printed Magazine, the cars with the most views, appear sooner so keep sharing your articles with the share buttons at the top of the articles, or copy the web link into Bios, Posts on Social Media and the Internet.
Join Our Stance Auto Mags Group, Give Our Facebook Page a Like, and Follow us on Instagram
Check out our MERCH STORE
More images are in the slider above, These Photographs are supplied by the Named Photographer, check their Link for Bookings.
Order the Printed Magazine HERE!!
Brandon Cox
2019 Kia optima
Instagram: @low_k5
Photographer: @apex_visualz
I'm 22 years young. I was born and raised in Hermiston Oregon. I currently work at an industrial facility that deals with a lot of agricultural and farm work.
Who or what got you into cars?
The one person that got me into cars was my father when we started building his race truck, would take me to the drag strip to watch funny cars top full Harley's top full dragsters. The thing I loved the most was going to the drag strip and asking racers for their broken car parts. What made me build my own cars was my buddy in high school that committed suicide, every time I go to a car event or even a car meet that's one person I'm always thinking about.
Why this car?
Many people ask me why I built a Kia Optima out of any car I could have chosen. I ask them why not, when do you ever see a Kia Optima built or on bags.
Why build this car?
I decided to build my Kia Optima for the simple fact that no one does them and I like a challenge.
What does it feel like owning this car?
Driving my car is the most amazing feeling in the world. I feel like I have accomplished one of my dreams as a kid. I remember looking at cool cars driving down the road saying that's cool or I wanna be like that one day. Well, I have done that with this car every time I park the car and air out I have to look back at it because it's a great accomplishment. The thing I love the most about driving my car down the road everyone spots me and I mean everyone, the look on peoples faces when I drive by or park just brings me joy!
Advice/Tips
My advice to any car enthusiast out in the world: don't let anyone get in the way of your dreams or ideas, if you have a vision it can be done. Anything can happen as long as you put your mind to it.
If you enjoyed this Car why not read this ONE HERE
What makes it unique?
The first thing everyone notices about my car is the vinyl wrap, it's the most unusual yellow a lot of people see.
Spec List
Bagged Wrenchmonkee struts with 3p airlift management

Esr cs15 wheels

Krotov ducktail

Carbon fibre door pillar overlays

Teckwrap golden yellow vinyl wrap

1 of 1 engine cover powdered coated in bronze chrome designed by myself

1 of 1 hood prop designed by myself powdered coated in bronze chrome

Strut tower bar powder-coated in bronze chrome

Catch can powder-coated in bronze chrome

Bov

Engine bay dress-up kit
Who did the work?
The bags were installed by Wrenchmonkee out of Kennewick Washington
The wheels were bought from Wrenchmonkee. Tires were installed onto the wheels by Phipps chevron. I installed the wheels and tires. The vinyl wrap was done by someone out of Washington.
Future Plans
Future plans would consist of a full show trunk setup. New wheels, new wrap, front diffuser, side skirts, possible carbon hood and wing.
Looking for a new club? Have a look at the ones featured on our site HERE
Group
Prominence @prominencecrew
Dream Car
My dream car would have to be a 1956 or 1957 Chevy bel air 2dr hardtop.
Check out our Google News give us a Follow
What do you think? leave your comments in the comments section at the bottom of the page.
All of our Magazine can be found on Amazon, they Print and Deliver it, Stance Auto can not be held responsible for the final print, all complaints and returns must be directed to Amazon.
UKTM no: UK00003572459