Jenny - 1999 Nissan Silvia - S15 Spec R
An s15 has been a dream car of mine for so many years and it is a dream that finally came true!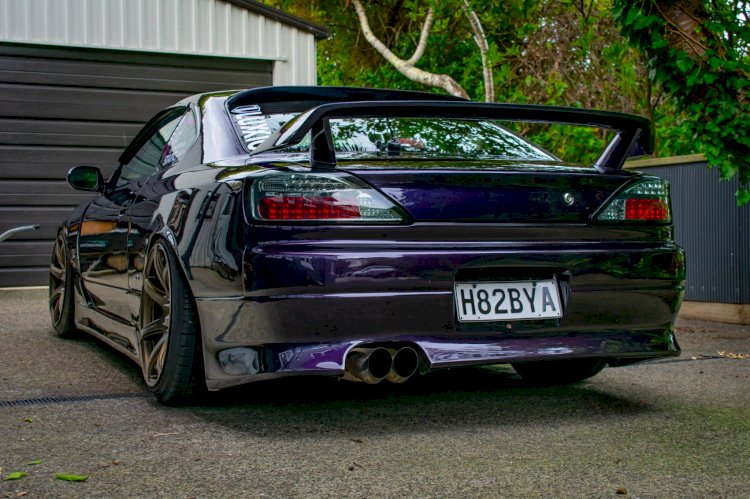 Join Our Stance Auto Mags Group, Give Our Facebook Page a Like, and Follow us on Instagram
These Photographs are supplied by the Photographer, check their Link for Bookings.
Order the Printed Magazine HERE!!
More images are in the slider above, SLIDE LEFT>>>>>>>>>>>
Hi all,
Thank you for this awesome opportunity!

My name is Jenny, I am 24 and I live in New Zealand.
Instagram: @h82bya
I currently work as an Admin Assistant for a Crown Entity - Sport New Zealand. This role comes with many opportunities to learn and grow and is a very welcoming workplace. I drive a Midnight Purple - 1999 Nissan Silvia - S15 Spec R. (check it out on my Instagram!)
An s15 has been a dream car of mine for so many years and it is a dream that finally came true! My partner brought one about a year ago and after being able to go in and drive his, I had to get myself into gear and purchase one for myself! It is an absolute dream to drive and for an unopened engine, it comes with a nice amount of power!
I grew up with a split family, my dad's side has always been very much so petrol heads, however my mum's side not so much! I never knew the love I had for cars and going fast until I was around 16, from that day forward it has been a real hobby! Most of my weekends are filled with driving or fixing cars and most of the time I absolutely love it!
I think my car is very unique in the way that the kit I'm running (vertex fibreglass kit) is not seen on very many S15s these days! The most common body kit on one of these is the plastic aero kit (this kit is beautiful but it comes with a hefty price tag!). I take pride in the fact that my S15 looks VERY different to the majority of the other S15s around! Just minor details like the eyelids on the headlights make for the biggest differences!
My S15 is one of the few left in New Zealand that was made here! It's pretty nice to be able to say I own an NZ New Spec R S15! If you can get your hands on one of these beautiful examples of a car, I really recommend you do so! Whether highly modified or completely untouched these cars drive so nicely and I would 100% recommend purchasing one! There are slim pickings when it comes to a tidy example of these cars so get your hands on one while you can!
I was very lucky to have purchased this car with the majority of the modifications already done to it, so I have not really had any issues with modifying anything that I have done - but I will say, please always expect to be fixing more than the one part you are planning on doing. There is usually always something else that can go wrong in the process! It isn't always as easy as it should be! Some of the things I have done myself include: Painting the Rocker Cover, Strut Bar and Engine Damper, Painting and Rebuilding the Brake Callipers, changing the Brake Rotas and Pads, and Full Service and installation of the Headlight Eyelids. I only ever really have other places to do jobs that I cannot do at home with my partner and friends. I really enjoy doing things myself and learning the ins and outs of my car! Saves a lot of money doing it yourself too!

This old girl has a lot of modifications! Please see the following list:
Sinco Steam Pipe Manifold
Full Exhaust System
Nistune ECU (tuned to 200kw)
Front Mounted Intercooler
Whiteline Front & Rear Sway bars
Midnight Purple paint job
Full Vertex Body Kit
Origin Roof Spoiler
Centre Deleted Aero Wing
Headlight Eyelids
BC Gold Adjustable Suspension
Work T7R Wheels (soon to be on different work wheels)
GK-Tech Camber
Toe, Castor and Traction Adjustable Arms
Yahsio Factory Taillights, Monsoons
Defi Boost Gauge and Controller
Custom (homemade) Shift Boot
We are Likewise Shift Knob
I have a few more plans for this car after my new wheels arrive! Mostly small things along the lines of getting some tints, and I might eventually push some more power through! Other than that, I really like how the car is and where it is at the moment. I am almost running out of things I could do to it!
My partner, myself and our friends have our own kind of 'crew' in the sense that there are a fair few of us who regularly catch up, cruise around and have some good yarns. It is always really nice being around people who appreciate your build/what you have no matter what. I am not really a part of any car clubs, and I actually quite enjoy being away from the majority of the car scene! However, I do somewhat associate my car with @girls_in_motorsport @staticacademy_ and @stealthride. Some other pages I represent are @paragon.colletive & @nz_jdm_alliance
I am really looking forward to entering some car shows and track events in this car! I am planning to enter @Choiceeventsnz Auto Atsumaru and @4androtary nationals. The main reason I attend these kinds of events is for a bit of fun! See how my car goes on the track and spending a day looking at everybody's Pride and Joy is really nice. The 2 events named above are fantastic events - there are a few events throughout the year hosted by both parties above and they are always really enjoyable even as a spectator.
My first car was a 1987 Honda City - I absolutely loved this thing and it was a fantastic learner car! After about a year of driving experience, I went out and brought my first modified car which was a Nissan Pulsar N14 GTI with an SR20 motor swap. My absolute dream car is an Audi R8! I also have a lot of love for Mazda RX7s and Subaru BRZ and I really hope I get the chance to own both one day!
I hope you have enjoyed learning about me and my car! Anyone is welcome to flick me a message on Instagram if you have any questions about what I have said/what has been done to the car
What do you think?
Please leave your comments in the comments section at the bottom of the page
'The future is bright as long as we can still Smell the Fumes'
Stay Up to Date Check Out Our Google News and give us a Follow
All of our Magazine can be found on Amazon, they Print and Deliver worldwide, Stance Auto can not be held responsible for the final print, all complaints and returns must be directed to Amazon.
UKTM no: UK00003572459