Lee Yang - 2016 Subaru WRX
Discover the incredible journey of a car enthusiast who took their 2016 Subaru WRX to new heights of style and performance. Read about this remarkable transformation on Stance Auto Magazine, featuring expert insights and valuable tips for car enthusiasts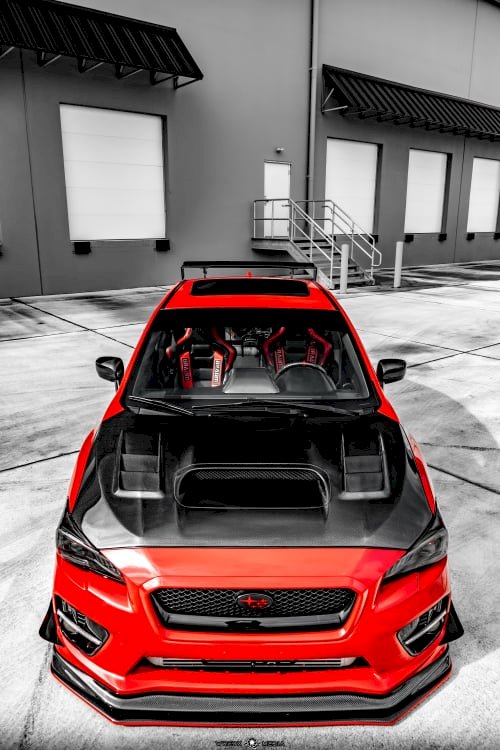 Join Our  Stance Auto Mags Group, Give Our Facebook Page a Like, and Follow us on Instagram
All the Cars in the Online Version of our Magazine will eventually appear in our Fully Printed Magazine, the cars with the most views, appear sooner so keep sharing your articles with the share buttons at the top of the articles, or copy the web link into Bios, Posts on Social Media and the Internet.
More images are in the slider above, These Photographs are supplied by the Named Photographer, check their Link for Bookings.
Order the Printed Magazine HERE!!
Hi everyone,
My name is Lee Yang, I work as a CNC Machinist. Happily married for 12 years, no children yet! I live 30 minutes north of Seattle, Washington, USA. If you have seen Tom Hank's movie Sleepless in Seattle, that's what I am talking about. In my spare time, I do photography of people and cars, but mainly cars as a hobby and side job.
Instagram: @wredx_media

I currently drive a Red 2016 Subaru WRX. It is my daily driven car, gets me good gas mileage and more bang for my bucks.

What got me into the car scene, well I must say, was when I saw the very first 'Fast and the Furious franchised movie. Since then I have always wanted a cool car.
The car is currently pulling a healthy 420bhp.

Full spec list includes:
Performance:
IAG Stage 2 FA20 DIT Short Block;
Specs case halves machine, the case is bored and honed to 86.1 mm crankshaft king main bearing;
Brian Crower H-Beam rods with ARP2000 rod bolts 86.1 mm forged pistons compression ratio 10.0:1, APR head studs;
AEM Intake, TurboXS Front mount intercooler;
IBR 1 Piece TGV Delete, EGR delete;
Killer B ceramic coated header with external wastegates;
Dual 38mm tile waste gates, Boomba BPV IAG Street AOS;
Cobb flex fuel kit;
Cobb V3 Access port;
Invidia Catalyst J-pipe;
Greddy RS single exhaust;
Stop tech slotted rotors;
Hawk ceramic brake pads; and
Grimmspeed 3 port electronic boost controller.
Exterior:
Euro style GT carbon fibre wing;
APR Carbon fibre license plate holder;
HIC rear window visor;
Wells window visor;
OLM carbon fibre side mirror covers;
OLM wide side mirrors;
Subispeed V2 Special edition LED Headlights w/ DRL and Sequential turns;
Subispeed switch back fog bezels;
Subispeed V2 sequential tail lights;
IJDM 3rd LED brakelight;
Carbon reproduction sujin front lip;
Front OLM Carbon extension lip;
Aeroflow dynamics carbon side extensions;
Rear VA Reproductions Carbon side extension;
Rear JDM splats;
Burnz auto V1 carbon fibre diffuser;
CS style lower carbon diffuser;
Rays 57 CR Pearl White Wheels with Kics Racing Gear R40 Conix lugnuts;
APR front canards;
Seibon carbon CW hood; and
JDM front grill.
Suspensions:
Airlift 3H performance system;
Front white line adjustable end link;
White line rear adjustable end link; and
Blox 24mm rear sway bar.
Engine dress up:
Perrin radiator shroud, Perrin alternator shroud.
Interior:
Braum Elite sports seats;
Braum 5 point racing harness;
Braum harness bar;
Carbon fibre steering wheel;
OLM Carbon triple gauge pod;
Prosport oil pressure gauge;
Prosport AFR;
Prosport boost gauge;
NexGen 322 GW Dash Cam;
V1 Radar detector;
Cobb shift knob;
Perrin shift stopper;
Android Head unit; and
Weather tech floor mats.
In terms of the work being done, I have done pretty much all of the work myself with the exception of the installation of the short block.
With regards to who undertook the work, it was a good friend of mine Ryan Parshall at 'The ModGarage Shop' in 1144 Industry Dr Tukwila, WA, 98188. I would definitely recommend his work!
If you enjoyed this Car why not read this ONE HERE
The Subaru was not my first car, in fact, my first car was a 1995 Dodge Caravan and I have most definitely had to build up to where I am now.
A project is never finished and I am always changing a few things around. My plan is to install a big turbo kit, big break kit, STI transmission swap with a bhp goal+ daily driven.
I am currently part of 'The ModGarage' check them out at https://themodgarage.com or follow on Facebook & IG @TheModGarage
I have been participating in shows/events/meets every single year for the past 4 years. There is a lot to name, but the majority that happens in the Pacific Northwest here are Hot Import Nights, Big Northwest, Clean Culture, Fitment, and Import Faceoff.

What is my dream car? The ultimate question of all times, I would say it is an R34 Nismo Z-Tune GTR. Who doesn't love a GTR!
Thank you for reading my article, don't forget to follow me on Instagram.
'The future is bright as long as we can still Smell the Fumes'
Check out our Google News give us a Follow
What do you think? leave your comments in the comments section at the bottom of the page.
All of our Magazine can be found on Amazon, they Print and Deliver worldwide, Stance Auto can not be held responsible for the final print, all complaints and returns must be directed to Amazon.
UKTM no: UK00003572459