Ruben Cardona 2003 Nissan 350z  
Ruben would say his 350z is different in several ways, but what stands out the most is the creativity & design in the details. Be different from the cookie-cutter builder. You want your ride to stand out, to be unique, to be yours.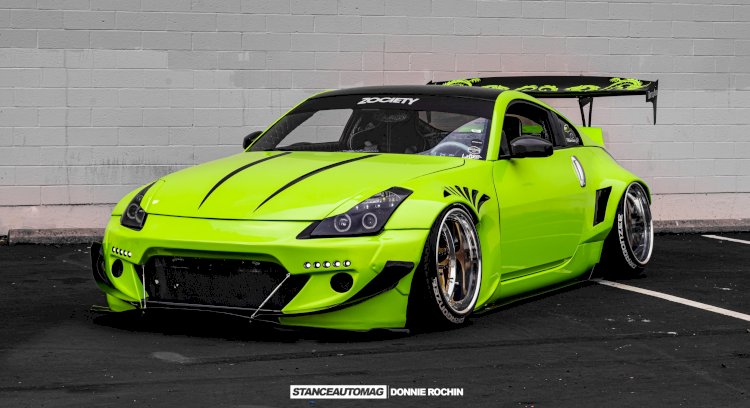 2003 Slammed and Widebody Nissan 350z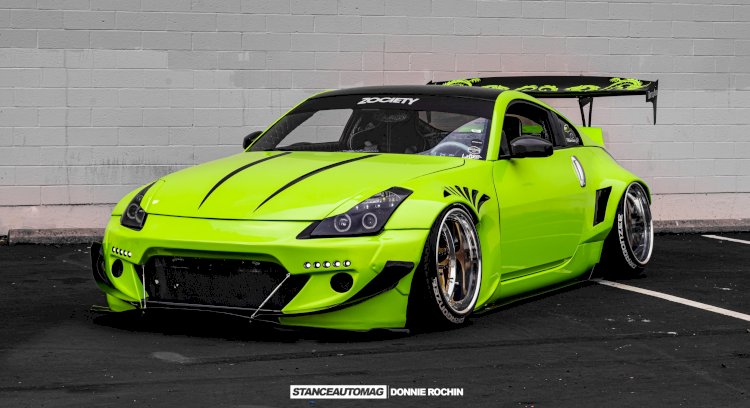 Join Our Stance Auto Mags Group, Give Our Facebook Page a Like, and Follow us on Instagram
More images are in the slider above, These Photographs are supplied by the Photographer, check their Link for Bookings.
Order the Printed Magazine HERE!!
Ruben Cardona
2003 Nissan 350z
Instagram: @Rubenzeee_z33
Photographer: Donnie Roc
IG:r0cean11
FB: r0cean11 Photography
Website:r0cean11.com
"Never let your dreams die"
Ruben was born in Guatemala City. He is now 22 years old and is currently working as an Auto Body Tech.
His interest in cars, specifically in the 350z, started at the age of 12. He was living in Guatemala and started playing Need for Speed Underground 2. Ruben found himself completely captivated by the green 350z in the game. He couldn't get it out of his head. He then made a promise to himself that one day that car would be his.
This car choice simply came down to the body lines. Plus since the game, it has always been the car of his dreams. For Ruben the 350 is the best Z with the cleanest body.
He went to do his driving test when he was 17 in a 2003 Honda Accord. He did not want to risk driving his Z without a license. It took him months to get the money to finally have it in his hands. This has been his first and only car. This has been his goal since day one.
Now when he sees his car parked anywhere Ruben goes back and thinks about everything that has happened to be able to have the car finally look like this. It's hard to believe at times that he has finally achieved something that he always dreamed of as a child; something that seemed impossible, now a reality.
If you enjoyed this Car why not read this ONE HERE
Being born in a poor country he never thought any of his dreams would be attainable, but once he moved to the United States everything began to change. He feels a sense of pride when he sees it parked in a lot knowing that this build is his. He loves when people ask him questions about the Z. He is often humbled because thanks to this car he has met so many people from all walks of life. He will always be grateful to his Z for that.
Few words of advice that Ruben can offer during his journey building this ride is "Research each part you want to buy. Never buy something just to have it; you always have to have a vision if that part is going to look good in your next setup; you may want to sell it when/if you no longer want it in your new setup. Always try to create something unique, be different, and if you can customize something; do it. Don't overthink things and do not take shortcuts. Always take your time in each stage, in each installation, never rush anything, and if that installation is going to take a couple of days, do not rush it, take your time. Focus on every detail. And if you can get a manual car, do it, you'll have more fun in the end."
Ruben would say his 350z is different in several ways, but what stands out the most is the creativity & design in the details. Be different from the cookie-cutter builder. You want your ride to stand out, to be unique, to be yours.
If you would like your Car Products tested and reviewed by our team Please Email us
Modifications:
Suspension Modifications -
Airlift 3P Management
Air Demand Struts
Dynofit Camber Arms
Brakes/Wheels/Tires Modifications -
Heritage Wheels 3pc 19x10.5 (-52 front offset / -75 rear offset)
Z1 Performance brake rotors
326 Power Japan lug nuts
Custom tire lettering
Interior Modifications -
Custom painted dash, console, and door panelling
Braum Elite racing seats with 5 point racing harness
Enjuku Racing harnesses bar
NRG steering wheels + hub & quick realest
Custom diamond stitch carpets,
Custom Headliner
Shift knob
Custom trunk setup (custom bracketing and black hardwood flooring)
LED trunk lights
Custom door panels
Diamond stitch doors inserts and pillars
Dragonzeee Air Tank Decal
Double din head unit
Exterior Modifications -
Custom Molded widebody Rocket Bunny kit
Rocket Bunny front bumper
Rocket Bunny splitter / front canards
Custom fenders front and rear (vents on rear)
Molded Drift Dialects wing
Chameleon lemon green wrap with black accents
Cat-Back Exhaust
Street Aero diffuser
Ezsplitters side skirt
Halo headlights
Battle Aero chassis mount wing
Custom wing decal (dragon design)
Fibreglass Eyelids
Carbon fibre mirrors covers
APR Performance splitters rods
Carbon fibre license plate cover
Ruben has had some help piecing this car together along the way. @teamtwinkie moulded the Rocket Bunny widebody kit in order to give the body clean flush lines. @diverseminds.ceo printed out the custom dragon banner you see on the wing. @_nissubishi_ did most of the bodywork, installed the air suspension, along with the installation of the Braum racing seats, harness bar, and harnesses. Installed BattleAero chassis mount wing custom fitted from a Genesis Coupe and finally fabricated the rear bumper for chassis mount access. The bar bracket was welded by @acapulco.mufflers.
Ruben still plans to do a total colour change, something unique. He also wants to customize the wide-body a bit more, add something that is one-off and makes the car stand out even more. In the meantime, he plans to continue to advance in his career as a tech.
Looking for a new club? Have a look at the ones featured on our site HERE
The car scene has shown him that you can create many connections, meet many important people, or companies; but whatever you get to do, always keep your feet on the ground and always stay humble. This experience has brought him so much more passion for cars. And lastly, always try to be a good example for the car community.
The car of his dreams will always be his 350z. A close second would have to be a Nissan GTR Nismo and doing a full Liberty Walk conversion.
Some parting words from Ruben. "Everything you can imagine from a young age or an adult, you can achieve it no matter the situation you may be in. Everything is possible if you have perseverance and consistency. Never stop dreaming, no matter what you work on or how much you earn. I know you have the power and the vision in each of you. I bought my Z by working in a car wash and then I started buying my parts working in a restaurant. This goes to show you can achieve your dream car as well no matter what life throws at you."
What do you think? leave your comments in the comments section at the bottom of the page
'The future is bright as long as we can still Smell the Fumes'
Check out our Google News give us a Follow
All of our Magazine can be found on Amazon, they Print and Deliver worldwide, Stance Auto can not be held responsible for the final print, all complaints and returns must be directed to Amazon.
UKTM no: UK00003572459