2020 Honda Civic Coupe LX - Savannah Valkyrie
I drive a 2020 Honda Civic Coupe LX. This is the base model with the 2.0L naturally aspirated engine. I bought this car over two years ago because at the time my Kia Rio was making expensive noises. This is the "new, reliable daily" that I could afford.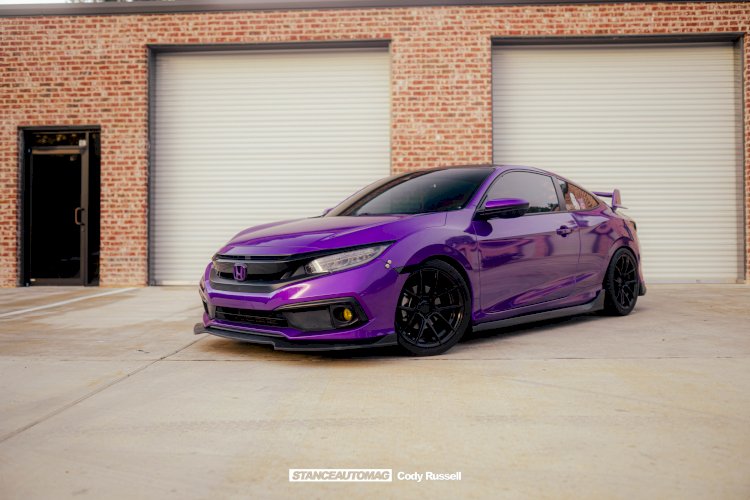 2020 Honda Civic Coupe LX
Join Our Stance Auto Mags Group, Give Our Facebook Page a Like, and Follow us on Instagram
These Photographs are supplied by the Photographer named, check their Link for Bookings.
Order the Printed Magazine HERE!!
More images are in the slider above
2020 Honda Civic Coupe LX
Savannah Valkyrie
Instagram: @aspitfyr
Photographer: Cody Russell
Instagram: @cody.media
I'm 22, and I work at Two Step Performance; a performance shop with a focus on Hondas and Acuras. I just graduated college with an Associate's and two technical certificates. I'm in our local car scene helping grow it and giving back to the community.
I've loved cars since I was little. When I was about 5, I remember asking my mother, "how does a car turn on?" She said "you put the key in" to which I replied, "well, yeah, but I mean after that.." What makes it work? How does it work? Why does it work? It started with my friend in Kindergarten introducing me to NASCAR. I went home that day, turned on the television, and watched the Talladega 500.
My parents took me to several races across the country and we rooted for Tony Stewart. I met Tony Stewart, Matt Kenseth, Joey Logano, Kevin Harvick, and Tyler Newman. A few years later, I was able to ride in one of the stock cars at a Richard Petty Experience. That speed, even from the passenger seat..it was addicting. I wanted more, and I wanted to know how to make my future car a track car, too. I also learned to play Need for Speed Most Wanted (2005) and fell in love with the decked-out cars, the cool drifts, races, etc. That game brought out the gamer in me while also making me adore cars so much more.
I drive a 2020 Honda Civic Coupe LX. This is the base model with the 2.0L naturally aspirated engine. I bought this car over two years ago because at the time my Kia Rio was making expensive noises. This is the "new, reliable daily" that I could afford. There was this car and a Sport trim on the lot. In hindsight, I should have bought the Sport as it was a 6-speed, but I couldn't justify spending $4k more for the same car at the time. I think it worked out for the best, though.
I decided to build this car because I really love cars. I was very scared to do so at first. I was worried about getting flack from others for being female in a male-dominated hobby. I didn't know much about cars as I never had formal education or someone to teach me. This didn't stop me; I desperately wanted to know more. I was so scared of messing something up so I didn't do anything besides cosmetics for a while. Finally, I got the courage to buy a mod - I wanted to start small and then work my way up. Shortly after, I installed my first CAI and got the unscratchable itch to do more.
Honestly…I love my car. I talk smack about it all the time but I've fallen in love with it. I've poured my heart, soul, blood, sweat, and tears into that car. The stock version wasn't bad, but now she's got a bit more pep in her step. It's not a fast car by any means, but it's so fun to drive. When I park it and look back, at times I'm like "wow, I did that. I really made it look and perform like that. I accomplished this," and it makes me realize that with enough drive, I can accomplish anything. My favourite moments are when I park the car and little kids just drool over it.
If you enjoyed this car story why not read this ONE HERE
They remind me of how I used to be as a kid. I had this little girl come up to me once and say, "I want a car like this when I grow up. I want to be like you." It almost brought me to tears, man. I'm all for more lady car enthusiasts, especially the young ones.
It's purple and looks like the Coupe version of a 10th-generation Type R (minus the hood).
Oh, boy. I hope you are ready for this one:
Spec List
AEM CAI w/ K&N filter
Stage 1 tuned from KTuner (v1.2)
MAPerformance 3" race catback
Whiteline rear sway bar, camber arms, and end links
Silver's Suspension NeoMax Coilovers
AVID1 SL02 wheels (18x8.5+30)
Michelin Pilot Sport AS4s (245/35/18)
VLAND headlights
Spyder fog lights,
ABSDynamics aero kit
Wrapped in 3M Plum Explosion
Various other cosmetic mods
I'm planning on installing these soon:
27WON front strut bar
Wilwood BBK (front)
RV6 Catted Downpipe
Custom calibration from TSP
Hella Horn conversion
Custom grille
Carbon fibre accents (interior)
I've done everything myself except for some of the exhaust and wing. For the exhaust, I took my stock one off to test fit the new one, but it needed to be cut and custom hangars needed to be made. I don't know how to weld so I took it to a shop. For the wing, I had it paint-matched (when the car was red) and installed. I did not feel comfortable drilling holes in the trunk, so I paid a body shop to do it. At the time I thought, "better them mess that up than me".
Future Plans
I'm pretty happy with where the car is for now. I do want to quiet it down a little, get a brake kit, and fix a few things. I have flush fitment now, but I'm thinking of giving it a tad bit of camber (max -1.5). Maybe work on the interior a tiny bit. But for now, I'm pretty happy with where it's at. Down the road when I get another daily I may end up doing a motor and trans swap to actually make it quick. We'll see.
Advice/Tips
If you want to buy this car…seriously consider what your goal is with the build. If you want it to be quick with loads of aftermarket support, buy a turbocharged sedan or hatchback. The coupe does not get much love, to begin with, especially the 2.0L.
For modifying this car, be patient. They're touchy, especially the models with the Honda Sensing. I've had a lot of trial and error runs with that. Also, modify the car how you want. People are going to talk smack about your build. And that's okay. Remember it's your car, not theirs.
Looking for a new club? Have a look at the ones featured on our site HERE
Groups/Clubs
I founded Friction Car Club back in 2020. We grew over 30 members strong and had an awesome time. Here recently we've all gone our separate ways. It's taught me many lessons and given me numerous opportunities, and I've met so many great people because of it. I am a member of Defiance (@teamdefiancecc) and Misfit Riders (@misfitriders.ms). They're both supportive groups of people and I can't recommend them enough.
The car scene has brought me a lot of positives and negatives. I've met tons of people, made new friends, and I also met my boyfriend at a car meet. I get the pleasure to work with charities to give back to the community for the events I help host so that's awesome. I like being in the scene because of the atmosphere, most of the time. It can be unnecessarily dramatic but it can also be so rewarding when you get to help and positively influence others.
Dream Car
My dream car is a C6 Corvette Z06 all blacked out. @c6base (when it was black) is the dream build right there. If I could buy that car right now, I would. However, when I have a car like that, I want to build it. So maybe another day. For now, I'm finishing up the final touches on the Civic and saving money for another build or daily.
Please leave your comments in the comments section at the bottom of the page
'The future is bright as long as we can still Smell the Fumes'
Stay Up to Date Check Out Our Google News and give us a Follow
All of our Magazines can be found on Amazon, they Print and Deliver worldwide, Stance Auto can not be held responsible for the final print, and all complaints and returns must be directed to Amazon.
UKTM no: UK00003572459